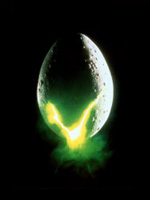 It seems the 30th anniversary of Ridley Scott's "Alien" unfortunately came and went back on May 25 before I even snapped to its attention.  I've never been a dedicated disciple of the film but it is unquestionably a staple of science-fiction cinema, a film packed with ideas that also succeeds at terrifying audiences both psychologicall and viscerally.  It's peculiar that Scott hasn't approached that level of thoughtful filmmaking in the 30 years since.
Over at The Auteurs' Notebook, Ben Simington has dedicated a healthy word count to the film, which is currently engaged in a one-week run at New York's Film Forum to celebrate the anniversary with a new 35mm print of the 2004 director's cut.  What I found particularly revealing, was Simington's commitment to dissecting the film's exemplary production design and set decoration.  "To say that Ridley Scott's commercial breakthrough was robbed of its Oscar for Best Art Direction/Set Direction is a pathetic understatement," he writes, "not only about the film in its own right, but also about the film within the history of moving-image arts."
Simington proceeds to spotlight key design elements that stuck out to him in a recent Film Forum screening, everything from the usual detail-oriented ornamentation of work spaces to more abstract interpretations read into nude pin-up posters in tandem with a photo of fried eggs.  It's fascinating stuff, but it really catches stride for me when Simington writes up artist H.R. Giger's contribution to the film's architecture.
Here's how Simington puts it:
Even if Scott cared more about directing his sets than his actors (as Harrison Ford reportedly said regarding Blade Runner), he still took a ballsy risk for a Hollywood release when he took Dan O'Bannon's recommendation to invite Swiss sadomasochistic artist H.R. Giger aboard the film's design team. With the headlining creature's shape and appearance still totally undefined in pre-production, Scott knew immediately upon reviewing Giger's book Necronomicon that he would not just be hiring an artist but moreover a philosophy. The inevitable result is that philosophically, Alien belongs to Giger as much as it does to Scott. As Edvard Munch said, "I have no fear of photography as long as it cannot be used in heaven and in hell," and the truly unmitigated authorial vision afforded a painter through his or her solitary work strikes out instantly from Giger's dark, obsessive considerations of sexual reproduction as an ancient and arcane biological technology whose machines wear out after their purpose is served. Giger examines these facts of life with a degree of coolness that is almost inhuman and that pumps his unmistakable chill into Alien. If the man has communicated directly with Satan, I would not be surprised.
Simington also goes deep with a passionate dissection of the film's broader philosophical gestures:
The thirty years since Alien's release have seen the film's own metamorphosis in a critical sense from Hollywood blockbuster to Hollywood "classic," and ultimately, with 2004's reassessments surrounding "the director's cut" release, into an exemplary piece of existentialist popular art. I think Alien might actually be more antagonistic than that evaluation implies. The horror of the filmt is not just that we each exist in isolation without any prescribed destination in a universe that has no inherent meaning (with all due respect to whatever freedoms that scenario may also entail), but that there is meaning of our lives and it is to provide a stepping-stone towards a destiny we actively disapprove of yet are unavoidably complicit in by biological determinism. If the "The Alien" overcomes, the entire history of human propagation amounts to nothing more than an abundant and wide-ranging food source. The once-comforting concept of the "circle of life" becomes viewed with a bitter sense of betrayal if we discover that our private body is nothing more than one unit of fleshy turf in a larger migratory biomass that is up for grabs. The transaction will render our hitherto proudly upheld individuality an insignificant illusion…quite painfully, I might add.
I haven't seen the film in many years, I must confess.  Like I said, I'm not one of the committed followers but maybe that's because I haven't taken the time to dig back into it in so long.  A 30th anniversary seems as good a time as any, so maybe I'll give it another look.
Also worth mentioning: IFC recently chalked the "Alien" trailer up as the greatest movie trailer of all time.  That's perhaps a bit of a stretch, but it's still a rather inspired pick.  Those 120 seconds were clever, creative, effective and wquite representative of the film's basic atmosphere and tone (a rare commodity with movie marketing these days).  Take a look:
The Film Forum anniversary exhibition of "Alien" ends Thursday, so to all the New Yorkers, get your tickets fast.