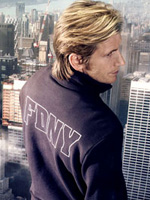 Just before I ducked out on vacation last week (big thanks to Guy for keeping the boat afloat), you might have caught my interview with comedian Denis Leary of FX's "Rescue Me."  Even though TV isn't something we cover much around here, I couldn't pass up the opportunity to chat with a personal favorite of MTV's glory years and the star/co-creator of one of my favorite cable shows.  We talked about "Rescue Me," of course, but we dived into MTV's decade-long funk, Leary's Emerson background and NFL football, among other things.
Over at the LA Times, Choire Sicha has taken some time out with Leary, with Thursday's Emmy nominations looming ahead (Leary has been nominated twice for the show but has not won the award yet).  Most of it is softball stuff, the questions pretty pat on the whole.  But it's branded a "Sunday Conversation," so I guess a little froth is okay.  As expected, however, Leary offers bizarre insight even if the questions lack it, such as one random (but oddly precise) reaction to a question about his son recently shipping off to college (also at Emerson), a moment he describes as "a combination of jealousy, rage, envy, fear."
Here's what Leary had to say:
I don't think I could have enjoyed [college] more. Maybe there were a few hostages I could have taken, but then you've got jail time. It limits your future employment. It's much better to just carry a vicious grudge of hatred. Which I still have! . . . I was just talking to a friend of mine, who's a very charitable person, but he wasn't when we were younger, none of us were. It may be an Irish thing, but I think it's healthy. There's like three or four people I've really hated. That I've never forgiven the grudge for. And I jokingly say if someone came in the room and told me I had brain cancer, those would be the first people I'd go out and kill. And I kind of mean it! And I don't hate them actively, while I'm talking to you. But if I saw them? Yeah.
Check out the rest here.  The interview was essentially promotion for "Ice Age: Dawn of the Dinosaurs," which, after Sicha asks emptily, "What am I supposed to ask you about this movie?," Leary seems to forget the film entirely.  Classic stuff.