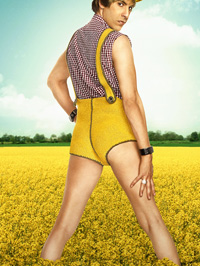 *All historical figures cited are adjusted to today's dollars.
Sacha Baron Cohen's full frontal assault on audiences took the top spot at the box office this weekend with an estimated $30.4 million from 2,756 screens. Considering that "Borat" made $29 million from 837 screens in its debut and then $31 million from 2,566 in its second weekend, I think it's safe to say that lightning hasn't struck twice in the same spot here.
Universal can still be happy with its $40 million investment as the film has bright prospects overseas and on home video. But with almost 50% of the weekend figure coming from Friday alone, the signs are there for this to vanish from U.S. theaters pretty quickly. $65 or $70 million seems like the probable domestic total, or roughly half of what "Borat" finished with.
If you're looking for an explanation, I've got one for you: Gay Sexual Content = Box Office Poison in 60% of the country.
"Ice Age: Dawn of the Dinosaurs" retains the runner-up position with a slim 33% drop from its somewhat disappointing debut. Another $28.5 million in the bank brings the running total to $120.6 million and sets the film on track to finish in the $175 million range, or exactly what was expected of it. Ray Romano may actually have himself quite the successful film career, as long as we never have to see his face again.
The second weekend drop wasn't quite as kind to "Public Enemies," which fell 44% to $14.1 million and fourth place. For a film aimed at adults following up a frame with a deflated Saturday, that's just not good enough. $66.5 million is the current total and the possibility of reaching $100 million is even smaller. It has one more chance next week to hold well with no direct competition opening but word of mouth seems to be average and the chances of the film being remembered come Oscar time now rely on a host of films released later in the year similarly under-performing.
Way back in seventh you'll find Chris Columbus's "I Love You Beth Cooper" with $5.0 million. It looks like I don't have to eat my hat. Fox is making a bad habit out of releasing sub-TV movie quality, comedy star vehicles for B-list celebrities, with Rainn Wilson's "The Rocker" faring even worse last summer. For Columbus, who is sadly one of the most successful directors of all time, this is the second worst debut of all his 13 films ahead of only "Heartbreak Hotel."
Also of note: "Transformers: Revenge of the Fallen" climbed to $339.2 million, sandwiching it between "Shrek" and "Shrek the Third" as the 18th highest grossing film of the decade, with more to come.
This week, I gave my $14.50 (thanks a lot, Arclight) to "Moon." A few misguided directorial choices aside, I thought it was a real solid film and a great showcase for Sam Rockwell's knockout talent. I also slammed down $9.50 for "Bruno" at the Vista's Thursday midnight show. Great venue, great crowd, okay movie. Lots of laughs and some scattered brilliance but overall it's just not as sharp or fresh as "Borat." Maybe it never could be.
I didn't see it this weekend, but I implore everyone in New York or Seattle to go see "Humpday." Now that's a gay-themed comedy I can fully get behind. (Pun very much intended!)
Next week is all "Harry Potter" all the time. The boy wizard has five previous films to look at for comparison and they are all pretty consistent. The only thing to consider is if "Twilight" has rained on the parade a little bit. Doubtful. I think we should see $150 million for the five days.
What do you guys think?  Is Potter old hat or does excitement continue to build with each installment?  Here are the weekend's top box office grossers, courtesy of Exhibitor Relations: