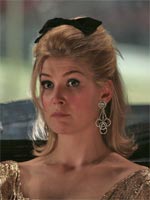 It seems that Lone Scherfig's British period drama "An Education" continues to steal the heart of pretty much everyone who sees it — this has been near the top of my "most anticipated" list for some time now.
You may remember a recent piece where Kris, while echoing the resounding praise for the film and its breakout star Carey Mulligan, really flew the flag for supporting star Alfred Molina.
Now comes further applause for the film — and an emphatic endorsement for yet another member of the film's ensemble — from an interesting source: Santa Barbara Film Festival director Roger Durling.
In an ecstatic note to Jeff Wells, one of the film's earliest champions, Durling likens watching the film to "a state of movie nirvana" and declares Mulligan both "sublime" and "the leading contender at this point for Best Actress." But I'm most interested to see that he singles out the supporting work of 30 year-old British actress Rosamund Pike for special attention.
In my Page to Screen discussion of "An Education" last week, I speculated that Lynn Barber's memoir offered Pike something potentially special to work with, and Durling's opinion justifies my faith:
I was particularly taken with Rosamund Pike [who plays Dominic Cooper's somewhat ditzy, arm-candy girlfriend]. That's a difficult role. There's a knowingness about this character despite the fact that she's not supposed to be playing a smart one. At times I felt — delightfully — as if Pike was winking at us and letting us know of the sleight-of-hand she was performing. And it made the role sexier because of it.

I've noticed how beautiful and talented this actress is in other movies, but she's a knock-out in An Education. God, I hope she gets some recognition!
Nothing would please me more than to see some recognition for Pike, the kind of hard-working actor who has all the ingredients of stardom but, despite performing solidly in such high-profile projects as "Die Another Day" and "Pride and Prejudice," simply hasn't had her moment yet.
I was recently jolted into awareness of her formidable skills when she managed to outact Judi Dench in "Madame De Sade" onstage in London, yet even in her home country, she still remains best known for her offscreen as Joe Wright's jilted ex. Maybe "An Education" can change that.
Meanwhile, the increasingly widespread acclaim for the film's ensemble, as opposed to just one star-making performance, is leading me to think "An Education" could grow deeper roots into this year's awards race than many are suspecting.