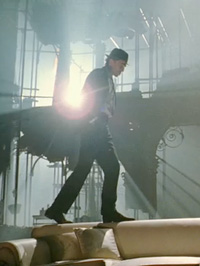 Today marks the beginning of a fourth year of Tech Support here at In Contention. Over the past four years, we've sought to bring the otherwise under-reported crafts categories and crafts artists the attention they seldom receive, despite their enormous contributions to the art of cinema.
This year, we plan on looking at nine of the categories – Art Direction, Cinematography, Costume Design, Film Editing, Makeup, Original Score, Sound Editing, Sound Mixing and Visual Effects – twice thoroughly between now and the morning the nominations are announced. Best Original Song will be previewed once, when we have a better idea of eligible contenders.
I will be offering the analysis of these categories but Kris will also be joining me for the first time this year with Tech Support features and interview pieces throughout.
Last year, a contemporary film – "Slumdog Millionaire" – managed to triumph in five of the 10 categories, a truly remarkable achievement, while "The Curious Case of Benjamin Button" unsurprisingly took three others.  (Meanwhile, the year's blockbuster "The Dark Knight" managed one.)  It will be interesting to see whether this year will be seen as having tech sweepers like "Millionaire" and "Button" or a greater spreading of the wealth, as we saw in 2007, when eight different films shared the 10 crafts awards!
To some extent, we've already seen films very likely to emerge as nominees, notably "Public Enemies," "Star Trek," "Up" and "Transformers: Revenge of the Fallen." It will also be interesting to see if "Chéri" and "The Hurt Locker" can survive in any of these categories until year's end. Following good reception at Cannes, "Bright Star" also seems destined to be a major player.
And then there are the films we are all waiting for – "Nine," "Avatar," "Sherlock Holmes," "The Wolf Man" and "Amelia" all jump to mind as hopefuls likely to make a splash, depending on overall reception, just to name a few.
There are also the crafts artists themselves. While there are several veterans who are likely to come into play, such as Kevin O'Connell, Greg P. Russell, James Horner, Colleen Atwood and Milena Canonero, am I alone in thinking we'll see a lot of first-time nominees this year, or individuals getting their second or third nominations?
This is, of course, just thinking out loud. Time will give us the answer to these and many other questions. So happy Oscar-watching, and tune next week as the column settles into its usual Thursday slot as we delve into the first of the tech categories: Best Cinematography!