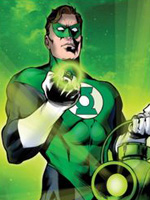 It all started with a recent Hollywood Reporter piece claiming that Bradley Cooper, Ryan Reynolds and Justin Timberlake (WTF) were up for the lead role in WB's "The Green Lantern" (a script I've had for a while but preferred to satisfy the inner geek in me by reading the Geoff Johns saga in full, leading up to this summer's "Blackest Night" event).
Of those three, with a gun to my head, I'd prefer Bradley Cooper, which was tossed into the mix by a Drew McWeeny report a few weeks back.  I love Timberlake and actually think he's a fine actor, but I don't buy him as a cock-sure-test-pilot-turned-intergalactic-police-officer, do you?
But according to this Michael Fleming scoop at Variety's new industry blog BF Deal Memo, the news strangely being dumped at the end of the week and the start of the weekend, it seems Warner Bros. is going with Ryan Reynolds.  Ugh.
I love Ryan Reynolds.  Like, we're talking man-crush.  I think he's charasmatic, funny, a wonderful choice for the Marvel character Deadpool (even though that character was raped and pillaged in "X-Men Origins: Wolverine"), an actual reason to purchase "Blade: Trinity," etc.  But I think he's dead wrong for this part.
Hal Jordan, in my narrow view of things, should be someone like one of the "Supernatural" guys (Jensen Ackles and Jared Padalecki) if you have to go the young buck route.  This turn of events has me worried the character will be morphed into some smart-assy combination of Guy Gardner and, well, Deadpool.
Speaking of which, why would you cast an actor who is already set to be a marquee performer in a different comic franchise as your guy here?  It doesn't compute for me.
Anyway, I'll try to go with the flow here.  I don't feel like Reynolds is outside-the-box enough, but I'm also glad he's getting these kinds of opportunities.  Martin Cambell is directing, which could be good, could be bad.  I don't know.  I need to dig into that script already.  That's the key to this project, I think.
This is obviously one of the more geek-tas-tic posts in a while, but if you have an opinion, rattle off your thoughts on the casting choice in the comments section below.