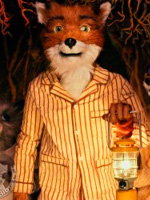 JoBlo has an exclusive first look today at the central character from Wes Anderson's "Fantastic Mr. Fox," a Scott Rudin-produced animated Roald Dahl adaptation.  The film was recently shifted from Fox over to Fox Searchlight for the purposes of distribution, lest a small, niche film such as this be lost in the shuffle.  But I have also heard murmurs (none of them confirmed, mind you) that the film will be pushed for a Best Picture nomination now that there are 10 slots up for grabs.
What is confirmed, however, is that Henry Selick's "Coraline" will be campaigned for the top prize by Focus Features (while Richard Curtis's "The Boat That Rocked," recently speculated in this space as being primed for Oscar, will not).  And of course, Disney/Pixar will be hitting the pavement in favor of "Up."  Before long, the question becomes, "Well if they're going for it, we should, too."  Which leads me to wonder…
"Amelia" is currently the only film with any real awards cache under Searchlight's banner.  Of course at this time last year, the studio had nothing and wound up with "The Wrestler" and eventual Best Picture victor "Slumdog Millionaire" on the other side of Toronto.  Things change.
But there is also Disney's "A Christmas Carol" to consider.  You'll recall two years ago Paramount launched a rather pointed Best Picture campaign for Robert Zemeckis's "Beowulf."  The film was also submitted by the studio as animation, but the director himself has stated flatly that performance capture is not animation and that to consider it as such would be "a disservice to the great animators."
However, to distract voters from considering performance-capture films as animated could also be a shrewd awards maneuver.  In order to be deemed eligible for the animated feature Oscar, while of course meeting stated aesthetic criteria, the film must be submitted separately as animation.  This is in addition to the film's standard submission for all other categories.  To consciously keep a film like "A Christmas Carol" out of the animated pile means you could potentially avoid that tricky toon bias.
Additionally, the film has not yet been classified as animation by the studio (which will already have Hayao Miyazaki's "Ponyo," Pixar's "Up" and "The Princess and the Frog" in competition).  The ultimate decision, I'm told, will be left with the filmmaker: Robert Zemeckis.
A similar tactic was used by Lionsgate in 2004 with Michael Moore's "Fahrenheit 9/11," when the studio (or, more likely, Moore) refused to submit the film for competition in the documentary feature category in order for higher marquee value as a Best Picture hopeful.  With the kind of box office the film was pulling in at the time, and it being an election year, it made some sense.  Of course, we all know how that turned out.
What little has been revealed of "A Christmas Carol" so far has been frankly stunning, a big step up from "Beowulf," to be sure.  "Coraline" has already been considered by many to represent one of the more fetching examples of 3D technology used in conjunction with animated features, while Anderson's "Fantastic Mr. Fox" is being shifted to an awards savvy studio without any notice from the media.
In a field as wide open as this, and with industry envelope-pushers like these and "Avatar" on the way, perhaps the thinking is that a wider net will yield a wider array of product.  Or, perhaps we'll just get more of the same fromt he other five slots.  So many questions…