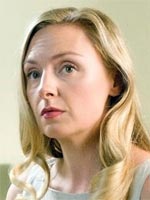 You may recall, a few months ago, Kris confessing his undying love for one Ms. Hope Davis, a crush I fully understand even if I don't entirely share in it. (My heart is still yours, Ms. Keener.) Bottom line: quirky-beautiful woman, wonderful actress, all-round fox.
So I'm curious to know how Kris feels about the news of his would-be paramour replacing Julianne Moore to play Hillary Clinton in Peter Morgan's third Tony Blair project "The Special Relationship."
I'm quite pleased with the development: great actress that Moore is, she doesn't quite strike me as a strident enough screen presence for Clinton. I find it easier to imagine Davis walking the walk with tongue ever-so-slightly in cheek, and to be honest, I find her a moderately closer physical match too. (No offence meant, Kris.)
I'm not sure what prevented Moore's involvement, or whether that was mere speculation in the first place. It's not the only things that's changed since the project was announced back in March: word at the time was that Morgan was set to make his directorial debut with the film, which focuses on the eponymous alliance between Blair (Michael Sheen, again) and Bill Clinton (Dennis Quaid). Now Richard Loncraine ("Richard III," the upcoming Renee Zellweger vehicle "My One and Only") is sitting in the helmer's chair.
Given my previously stated lack of enthusiasm for the project, I have to say that the casting of Davis sounds by far the most interesting thing about it. Good luck to her.