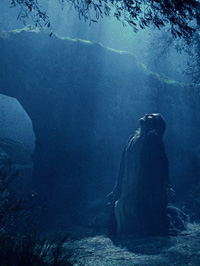 Five years have passed since the release of Mel Gibson's extraordinary film "The Passion of the Christ," a self-financed work that would eventually stun the industry, bringing in more than $600 million worldwide. There were gales of protest about the film, religious leaders spoke out, some for it , some actually against it, and audiences members wept, or walked out, depending on the person.  I can't remember a film causing this sort of reaction from so many people. Gibson divided audience right down the middle.
The actor/director chose not to make a film about Jesus's life but rather his death, exploring in great detail the horrors inflicted on the poor man as he walked toward a hill where he would be nailed to a cross and left to die a most horrible death. The chain of events is called "the stations of the cross" in religious teaching, but Gibson laid it out in near matter-of-fact fashion.  His faith was apparent but it wasn't a propagandist's work in the slightest.
In essence, Gibson made a film about a man who was driven.  He could have stopped but he pushed through this awful denouement to his life. I suppose that, more than anything else, moved me. The fact that no matter what happened to his body, whether it be scourging his flesh or beating him about the head and face, he just kept going, knowing his purpose, knowing his destiny.  In that way, the film could be seen less as a portrait of a religious figure than a tale about everyday passion, the will to continue, eyes on the prize, etc.  Who can't relate to that in some way, however comparably small?
I have struggled with religion all my life, never believing in an "almighty God" that created us and knows our every move, but very aware that Jesus existed.  And I certainly believe in his teachings, his way of life, or at the very least, the depiction of same in religious scripture.  Was he the son of God?  Personally, I doubt it.  But he was something.  For his story to be told today, 2,000 years later, means something. Do I believe in heaven and hell? I believe something happens when we die, but only because I have to believe in that. I just can't imagine that all this energy, all this knowledge and life experience, dies with us. With my wife's terminal illness, that belief is even greater than it used to be, to be sure, but I do not believe we go to heaven.
Jesus was the original liberal.  He spoke about love, about decency, about all men being equal.  And he was willing to die for those beliefs.  I know he believed he was taking on the sins of mankind, and I know he was a man much loved, but equally feared.  It's a fascinating study for a film, to be honest.
My brother-in-law is a devoutly religious man and good guy. He once said to me, "Why should I see this film when I know what happens?"  Without missing a beat I answered that all believers should see the film if only to better understand their own beliefs.  They should see the punishment this man suffered because we cannot understand that in church or Sunday School.  Gibson gave us a visual journey of Jesus's final hours, something no sermon, no stations, no words can conjure for us. I had no idea what scourging did to the human body.  That moment in the film caused me to look away from the screen for the first time in nearly 40 years.  It wasn't because I was sickened, it was out of compassion. I felt for the man.  Gibson brought out a strong sense of sympathy and powerless, observational sorrow.
For these reasons, I feel that Gibson accomplished something quite extraordinary with this film.  Imagine an actor believing in his project so much that he finances it to the tune of $25 million dollars, without distribution secured. The film is told in the dead languages of the time — Aramaic and Roman — and the violence is often gruesome.  Gibson went to work without the knowledge that it would be a smash success. He made it because he believed in the subject matter and wanted this story told.  Isn't that a hallmark of any driven artist worth his salt?
I saw the film for the first time with the press back in early 2004, and I watched several people walk out, unable to deal with the punishing violence. A few days later I saw the film again with a group of religious leaders, and watched the inevitable solemn shaking of their heads, the weeping, the quiet mumblings of men and women deeply impacted. There were allegations of anti-Semitism which, in my opinion, were utter nonsense as the film was based on the narrative put forth in Bible as well as the known history of time.  I try to simply ignore them because they seem to come from a place of pent-up passion rather than educated criticism.
"The Passion of the Christ" was an astonishing emotional experience that I have never forgotten. Not one of the devout, I was stunned that I wept at moments in the film.  I found myself wanting Jesus to die so there would be no more punishment. As a film, it was superbly directed, acted, edited and shot, with stunning makeup, art direction and costumes. It seemed to me that Gibson had plunged his audience back in history, like the book "Live from Golgotha," in which a news crew traveled back in time to witness this seminal event. Gibson gave us brutal reality, and in doing so, at least with this viewer, created the single most emotional religious experience I have ever had.
In my opinion, the film is a work of art.  And I'm sure there are those who disagree, so I am eager to have it out in the comments section below.