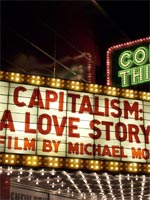 "Capitalism: A Love Story."
That, Variety informs us, is the title of Michael Moore's latest, which you may remember remained nameless even through its own teaser trailer. So, simply by waiting this long, he even turns the choosing of a title into a publicity opportunity. You sort of have to admire the way he plays the game, right down to his cornball blurb:
"It will be the perfect date movie … It's got it all — lust, passion, romance and 14,000 jobs being eliminated every day. It's a forbidden love, one that dare not speak its name. Heck, let's just say it: It's capitalism."
Spooky that I asked yesterday for a documentary to step forward and report for awards season duty, and a mere few hours later we get this. The film bows October 2nd, courtesy of smart indie outfit Overture Films.