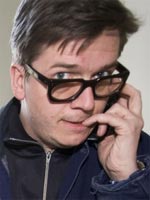 Is a John Le Carré adaptation now some kind of rite of passage for lauded foreign directors crossing over to English-speaking audiences?
Okay, I'm stretching. Still, it's interesting that a few years after Fernando Meirelles made the switch with his take on Le Carré's "The Constant Gardener," we now have "Let the Right One In" helmer Tomas Alfredson taking on the British author's defining work "Tinker, Tailor, Soldier, Spy."
ScreenDaily reports that UK stalwart Working Title is shepherding the first big-screen version of Le Carré's classic espionage novel — which was very successfully adapted for TV in the 1970s, with Alec Guinness famously taking on the role of George Smiley, an elderly spy brought out of retirement to hunt an MI6 mole in the Cold War era.
No cast has yet been announced for the film, which begins shooting next year. In something of a "Frost/Nixon" reunion, the film is being produced by Working Title heads Tim Bevan and Eric Fellner, while Peter Morgan (also an executive producer) is on script duty.
Following Morgan's involvement in the James Bond franchise, it would appear that fictional British spies have supplanted real-life figures on the list of Morgan's writerly interests; seriously, it's nice to see him spreading his genre wings.
Alfredson is the real story here, though, and an exciting on it is too. After the starkly contemporary feel of "Let the Right One In," this isn't necessarily the first project you'd think of for him, but it makes rather a lot of sense — the dry wit and chess-style calculation of Le Carré's prose is well suited to Alfredson's sparse aesthetic and unfussy storytelling. Now just cast Jim Broadbent in the lead, and this ought to be very good indeed.