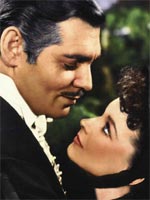 Chad's excellent Sunday Cents columns have previously inspired discussion amongst readers about the rights and wrongs of adjusting box-office figures for inflation. I must say it's always made perfect sense to me, and I'm even more in favor after reading this interesting Bloomberg chart, which lists the top grossers of all time after inflational adjustment.
Under these circumstances, "Gone With the Wind" handily see off all challengers with a gross of $1.45 billion — a satisfactory outcome for me, given that it's my personal number-one film of all time too. Meanwhile, "Titanic" — the all-time champ on the unmodified chart — drops all the way to #6 when inflation enters the equation. Result.
Below is Bloomberg's inflation-adjusted Top 10; after the cut, the equivalent ranking irrespective of inflation.
TOP 10 ADJUSTED FOR TICKET PRICE INFLATION
1. Gone with the Wind ($1,450.7)
2. Star Wars ($1,278.9)
3. The Sound of Music ($1,022.5)
4. E.T. The Extra-Terrestrial ($1,018.5)
5. The Ten Commandments ($940.6)
6. Titanic ($921.5)
7. Jaws ($919.6)
8. Doctor Zhivago ($891.3)
9. The Exorcist ($793.9)
10. Snow White and the Seven Dwarves ($782.6)
TOP 10 NON-ADJUSTED DOMESTIC GROSSERS
1. Titanic ($600.8)
2. The Dark Knight ($533.3)
3. Star Wars ($461.0)
4. Shrek 2 ($441.2)
5. E.T. The Extra-Terrestrial ($435.1)
6. Star Wars: Episode I – The Phantom Menace ($431.1)
7. Pirates of the Caribbean: Dead Man's Chest ($423.3)
8. Spider-Man ($403.7)
9. Star Wars: Episode III – Revenge of the Sith ($380.3)
10. The Lord of the Rings: The Return of the King ($377.0)
I know which one I prefer. More here.