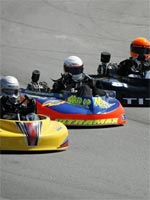 For documentaries, qualifying for Oscar consideration can be a rough ride. Academy rules stipulate that a film must at least enjoy a week-long theatrical run, in both New York and Los Angeles, to be eligible — which can be a tall order for tiny movies on tricky subjects.
So — acting as a kind of fairy godmother to independent documentary makers struggling for exposure — we have DocuWeeks, a three-week-long showcase sponsored by the International Documentary Association, in which a selection of features and shorts screen on both coasts. In doing so, they both qualify for the Academy awards and raise their profile to potential voters.
It's a nifty tradition that has already seen 16 films go on to make the Oscar ballot, including 2007's winning feature  "Taxi to the Dark Side" and last year's champ in the short race, "Smile Pinki."
This year sees a total of 28 films — 18 features and 10 shorts — in the DocuWeeks lineup, so it seems safe to wager that we'll be hearing more about at least some of them as the awards season progresses. I admit I don't keep up the documentary side of things as much as I should, so I know next to nothing about most of the inclusions in the globally diverse group.
Some of the titles, however, are fairly self-explanatory: it doesn't take a genius to figure out what "Mugabe and the White African" and "Smile 'Til It Hurts: The Up With People Story" have on their minds. Also included in the feature selection is "Yes Madam, Sir," a study of India's first policewoman that took gold at Santa Barbara back in February, while "Racing Dreams," a portrait of youth go-kart racers, was a popular winner of the Best Documentary prize (and Audience Award runner-up) at the Tribeca Film Festival.
Meanwhile, this seems a good time to put the question out there: what documentaries on the horizon have the potential for crossover audience — and Oscar — success? Summers past have given us such formidable contenders as "Man on Wire," "Sicko" and "March of the Penguins" … does this season have something similar in store?
Plenty of buzz surrounds the Sundance-endorsed Anna Wintour profile "The September Issue," due for release next month, and cannily being marketed as "the real 'Devil Wears Prada'." It was one of the hottest tickets at Edinburgh — so much so that I missed out on a screening — but is it too lightweight for Academy voters' taste? Any ideas?
Anyway, what follows is a list of all 28 films in this year's DocuWeeks lineup:
FEATURES
"DIRT! The Movie"
"Garbage Dreams"
"Hunting Down Memory"
"Kimjongilia"
"Living In Emergency: Stories of Doctors Without Borders"
"Mugabe and the White African"
"Racing Dreams"
"Rock Prophecies"
"Saint Misbehavin': The Wavy Gravy Movie"
"The Sari Soldiers"
"Severe Clear"
"Smile 'Til It Hurts: The Up With People Story"
"Split Estate"
"Soundtrack For A Revolution"
"Sunrise/Sunset Dalai Lama XIV"
"Sweet Crude"
"Tapped"
"Yes Madam, Sir"
SHORTS
"Aliens Among Us"
"Crossing Midnight"
"Far From Gone"
"Ingelore"
"Rabbit à la Berlin"
"Point of Entry"
"Salt"
"The Solitary Life of Cranes"
"12 Notes Down"
"Women Rebels"