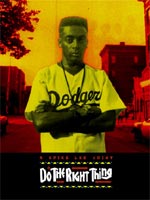 Like others, we've been paying mind on these pages to the 20th anniversary of Spike Lee's "Do the Right Thing," a film that now finds itself in the odd position of being both a period piece and a still-resonant state-of-the-nation address. Certainly nothing in the two decades since its release has surpassed it as a study of the intricacies of race relations in modern America. (Even supporters of "Crash" would have to admit that.)
Anyway, my attention was brought to this beautiful tribute to the film's legacy in black-interest magazine The Root, in which Kai Wright reflects on what changed — and remained — in the Bedford-Stuyvesant neighborhood that the film immortalized:
Much has changed since 1989, my older neighbors say, but much hasn't. We've got a few coffee shops for hipster art students—black and white alike—but Spike's Sweet Dick Willie, Coconut and M.L. still set up their own corner cafes. They lounge on paint buckets and tumble out of parked gypsy cabs, interrupting their endless debates only to ogle women young enough to be their daughters.

It's hard to imagine a race riot anywhere in New York City these days, let alone Bed-Stuy. Frustrations are more likely to erupt inward—into domestic violence, drug abuse and depression, small beefs that spiral up into shootings. Maybe Spike can make another film about it, and this time Bed-Stuy's people will actually do the right thing—and take their riot over to Wall Street.
It's a lovely piece that reminds what I loved about "Do the Right Thing" (which I haven't seen in far too long) when I first encountered it: Lee's fine-tuned sense of urban atmosphere, his focus on tangible environmental detail, which carried his point across more emphatically than the foregrounded rhetoric of some of his later work.
Of course, it's this concentration on milieu and the rhythms of everyday life that twins "Do the Right Thing" with my own favorite Spike Lee joint, the vastly underrated 1999 "Summer of Sam." Both extraordinary portraits of a city in crisis, both coming at the tail-end of their respective decades. To follow this pattern, we should by rights be owed another New York masterpiece this very year, but that ain't happening. (Next up for Spike: "Inside Man 2." Sigh.)
On a side note, a recent rumination on the film's controversial sidelining in the 1989 Academy Awards reminded me of what a remarkable group it joined in that year's Best Original Screenplay category. "Do the Right Thing," "Crimes and Misdemeanors," "When Harry Met Sally…" and "sex, lies and videotape" … surely one of the most stellar lineups the Oscars have ever assembled. I wouldn't even know where to begin choosing a winner.
Evidently, the Academy didn't either, since they completely (and predictably) ballsed it up by picking "Dead Poets Society" over the lot. Sorry, I know the film has a lot of devotees, and I've got in trouble for dissing it before, but … hell to the no.
Anyway, a digression. Once more, happy anniversary, Spike. Read the rest of Wright's piece here.