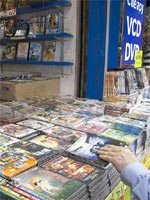 I was tickled by — and completely related to — this piece by Cinematical's Elisabeth Rappe in which she expounds the joys of embarrassing bargain-bin DVDs.
You know, the movies you know you shouldn't own (and in some cases, don't even like that much) but can't resist picking up when you're in the store and spy a mark-down sale sticker slapped on the cover. The ones you bury at the back of your bookshelf lest your cineaste friends see that you actually spent money on "13 Going on 30." (Yeah, I did … and a well-spent pound it was too. Anyway, "Legally Blonde" needed company.)
Here's Rappe on her latest red-faced purchase:
This week's guilty grab was Australia, a film I was very disappointed in, and planned never to see again unless I stumbled on it while flipping through cable channels. But there it was on half.com, "watched once, brand new" for $5.00 … It's really the perfect movie for knitting to, because I can just concentrate on turning my sock heel, and look at the pretty cinematography.

My DVD shelf is chock full of such films. Kate and Leopold, The Long Kiss Goodnight (worth far more than whatever I paid), my entire Mel Gibson collection, Marie Antoinette, The Wedding Singer, and so on. The list is long and not very illustrious (Vanishing Point remake, anyone?), but at least I can say I didn't go out of my way for most of them.
Of course, as an unashamed defender of "Australia" (and not even in an ironic way), I would defend Rappe's acquisition on numerous grounds — not the least of which is that I spent rather more on the DVD myself. I'm not sure if I've ever sunk quite as low as "Vanishing Point" (or perhaps I have — where does something as godawful as "Dan in Real Life" figure?), but I support the idea nonetheless.
That said, lately the trash quotient of my DVD collection has lessened, partly because here in the UK, it's getting progressively easier to buy brilliant cinema for next to nothing, without even having to resort to second-hand piles. Rappe defines "10 dollars or less" as bargain territory, whereas £3 (just under $5) is rapidly becoming my new ceiling. Just the other day I waltzed into my local music retailer and picked up "Lust, Caution," "This is England," "Gomorrah" and a silky transfer of "Rosemary's Baby" for the price of a single movie ticket. Times are good.
Meanwhile, there's obviously a highly discerning (or just ADD-afflicted) cinephile in my neighborhood who keeps supplying my local Salvation Army store with a steady supply of next-to-new world cinema titles. Thankfully, no other customers are biting, leaving me to cream off the likes of "Moolaadé," "Tell No One" and "Murmur of the Heart" for 50p (80 cents) apiece. And they say charity is dead.
What are the guiltiest pleasures (or most treasured bargains) in your DVD collection? C'mon, you can tell us.