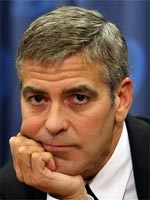 Isn't it funny how there are some high-profile films that you anticipate, see, thoroughly like at the time … and then promptly forget about until they crop up on late-night TV, in conversation or in some news archive, and you think, "Hey, that wasn't half bad?"
Such is the sort of flashback I had while reading on Anne Thompson's blog about the possible resurrection of Tom Clancy's Jack Ryan franchise.  My first thought was that the films are collectively something of a 1990s time-capsule item, and perhaps best left in that era — but then, my first thought was that we'd left the franchise in Harrison Ford's hands 15 long years ago.
For whatever reason, it entirely slipped my mind that the Ryan saga had already been rebooted and de-aged for the 21st century, in the shape of Phil Alden Robinson's disposable but thoroughly enjoyable 2002 "The Sum of All Fears," with a pre-backlash Ben Affleck doing the honors. Whether or not the film, with its terrorist-heavy plot, came too soon after 9/11, it did respectable business, but the overhaul didn't seem to stick in the wider public imagination.
So perhaps it's not surprising that, after lying dormant for 7 years (a similar gap to the one that separated "The Sum of All Fears" and "Clear and Present Danger"), Jack Ryan is rumored to be making another return, this time in the more mature guise of George Clooney.
It makes sense on paper, not least because Clooney leans closer to the Harrison Ford demographic that served the franchise well two decades ago, but I can't help wondering whether — short of a cinematic reinvention akin to that of Robert Ludlum's Jason Bourne novels — the moment has passed.