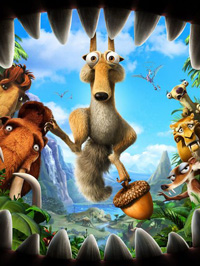 *Historical figures quoted are adjusted to today's dollars.
It was another close race at the box office this weekend with estimates calling it an exact tie between "Ice Age: Dawn of the Dinosaurs" and "Transformers: Revenge of the Fallen," but Monday actuals might tell a different story.
The third entry in the animated series (only the second major animated franchise to reach three films) earned $42.5 million for the three-day weekend and $67.5 million since opening on Wednesday.  Independence Day falling on a Saturday was always going to hurt but given the fact that the first two "Ice Age" films opened with $57.2 million and $74.6 million respectively, this is a bit on the low side.
There really wasn't enough material with these characters for one movie, let alone three, so it's not surprising that the shine is wearing off.  But Fox will still cross $400 million worldwide with this sucker so it's no big deal to them.
Hot on its heels was "Transformers."  A 62% dip to $42.5 million gives Michael Bay's magnum opus $293.5 million after 12 days.  Uptight movie nerds need not worry though because at 12 days "The Dark Knight" had already amassed $333.9 million, so there's no chance of Shia rubbing elbows with the bat's total gross.  It does have a great chance of becoming the 12th film from this decade to cross $400 million though, and that's a damn shame.
In Contention staff favorite "Public Enemies" earned the bronze for the frame with a $26.2 million three-day weekend and $41 million in the bank since Wednesday.  "Collateral" and "Miami Vice" both opened in the $28 million ballpark, so given the spread-the-wealth nature of a Wednesday opening and the Saturday anti-holiday, this is basically a career best for Mann.  I'm not convinced it has the goods to make it all the way to $100 million, but we'll see.
In other news, "The Hangover" crossed the $200 million mark, making it the first straight-up comedy to accomplish that feat since "Wedding Crashers" four years ago.  And "Star Trek" finally exited the top 10 after 8 solid weeks.  See you on your next sleek and sexy adventure, Kirk and Spock!
This week I gave my hard earned 10 bucks to two movies.  "The Windmill Movie" is excellent and I encourage anyone living in a city lucky enough to get it to go check it out.  And "Year One" is maybe the worst put-together major Hollywood film I've ever seen, and yet I also laughed 10 times more than at "The Hangover," so take that as you will.
Next week is the return of everyone's favorite prankster, Sacha Baron Cohen, with "Brüno."  This thing could go anywhere, with Universal putting a lot of money behind it and Cohen seemingly everywhere promoting, but it may all be for naught in the Red States and metropolitan markets alone are not enough to become a blockbuster.  I think $42 million opening and then a quick death.
The only other release is Fox's "I Love You Beth Cooper," which looks simply dreadful.  Chris Columbus is a long way from the "Harry Potter" franchise and each new director that tackles that series shows him and his two entries to be more and more inept.  If this thing makes more than $5 million, I'll eat my hat.
What do you guys think for "Brüno?"  Any excitement for it out there?  Here are the weekend's top domestic grossers, courtesy of Exhibitor Relations: