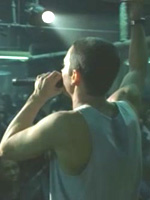 For the most part, I feel like this Eric Felten op-ed (in a new weekly Wall Street Journal arts column called "De Gustibus") has its heart in the right place.  But in chastising the Academy for all but doing away with the Best Original Song category with a recent rule change, he takes some rather cheap shots at the group for awarding, in fact, some of the most worthy movie tunes of the alst few years.
Forgive me but I happen to think Eminem's "Lose Yourself" and Three 6 Mafia's "It's Hard Out Here for a Pimp" to be, however on the nose, powerful additions to their respective films, and the Academy uncharacteriztically brave for singling them out.
That having been said, it is true that members of the Academy rarely seem to recognize song work that stands the test of time.
Says Felten:
At the most recent Academy Awards, Beyoncé Knowles performed in a medley of movie tunes, at one point tossing in a phrase from "At Last." It was the song that she had sung for the Obamas' Inaugural Ball dance a month before, a performance that copied Etta James's 1961 recording of the song — and earned a bitter rebuke from Ms. James: "She had no business up there singing . . . my song that I've been singing forever."

But of course "At Last" isn't Etta James's song. It was written by Harry Warren and lyricist Mack Gordon for the delightful Glenn Miller vehicle "Orchestra Wives" in 1942. According to the Academy, "At Last" wasn't even the best song in that picture — Warren was nominated instead for "I've Got a Gal in Kalamazoo." And yet more than a half-century later, artists are still fighting over who can claim "At Last" as their own.
I nevertheless can see the point Patrick Goldstein is making in response to Felten, decrying the same dismissal of hip-hop I did while drawing a connection to the Journal's politics:
Once again, it's a lost opportunity for conservatives in their attempt to somehow be relevant in the always turbulent pop culture affairs of the moment. When the right was at its political height, it was because it offered provocative new thinkers with a fresh, unorthodox take on the issues of the day. If the right wants to have the same influence on pop culture, it has to be just as engaged. For a start, it has to get out of the nostalgia business.