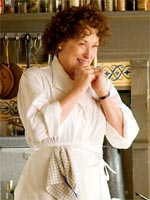 As far as I know, Nora Ephron's "Julie & Julia" is still under a reviewing embargo, but the New Yorker's Ariel Levy has sneakily buried a brief, incisive critique of the film at the tail of a substantial profile of Ephron. (Thanks to Jeff Wells for pointing it out.) You'll need a subscription to read the whole thing, but here are the juiciest bits on the film — which will no doubt please the numerous Streepophiles out there:
The truth is, "Julie & Julia" is not a fair fight. For half he film we are in Paris with Julia Child played by Meryl Streep. It is pretty transcendent. For the other half, we are stuck in Long Island City, Queens, with the 'lowly cubicle worker' Julie Powell, a character who is immature, self-pitying, and frazzled (which is to say, an average human being). Powell is played by Amy Adams, who is a talented actress, but she is up against the queen herself.

When Adams, as Julie, is on the screen, it necessarily means that Streep, as Julia, is not, and you come to resent her for this. It is possible that the film would not have worked if it were simply a biopic of Julia Child — that it derives its narrative thrust and commercial potential from the interplay between a young woman idolizing and relying upon Child in the more-or-less present and the splendid story of Julia Child's past. Perhaps Child is able to emerge in this film as an almost mythical creature because she is presented in contrast to a mere mortal.

But there may be another reason the Julia Child portions of "Julie & Julia" are so irresistably vivid and the Julie Powell bits feel a little flat. It is possible that Nora Ephron no longer understands half as well what it's like to be ordinary as she understands being remarkable.
If such a viewpoint becomes the consensus when more reviews emerge, it will only add fuel to the fire for Streep's awards campaign in the leading category. (You'll notice that Kris recently promoted her in his predictions.)
Of course, a narrative like this seems designed to favor the flashier, larger-than-life personality — even when not on screen, Child is a formative influence in the contemporary parts of the story, whereas Powell has no presence whatsoever in the other half.
People will inevitably sympathize (or criticize, depending on their allegiances) with Amy Adams for having had to play second fiddle to Streep's scenery-chewing in two consecutive films, even if they don't actually share the screen on this occasion. That said, as someone who thought Adams handily outclassed her senior co-star in "Doubt" — admittedly, merely by being attentive onscreen while Streep careered off the rails — I prefer to judge this rematch for myself.