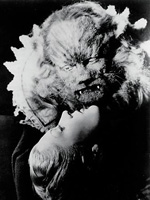 On Independence Day, no less…
There seems to a huge misconception on the site that I dislike foreign language films and know little about them. While it is no secret I love American cinema and praise it frequently, I do indeed believe great films are made around the globe, and try to see every one I can at the festivals I attend and the screenings I attend on a weekly basis. My love for foreign language cinema, admittedly, is not as deep as the one I have for American cinema (and remember, I am Canadian), but when I see a great one (which is often) I do indeed champion it.
Foreign language films can be extraordinary experiences, though the acting styles differ, the cultures are often radically different, yet the storytelling techniques, for the most part, are the same, which is what makes cinema a universal language.
If I recall, the first foreign language film I saw was "Beauty and the Beast," which was a stunning work of art from French director Jean Cocteau that I saw as a child on a French TV station here in Canada. It was wildly imaginative, fantastical and stunning, a black and white beauty. I watched as many films on that station as I could, including "Breathless," which I knew as a teenager was bold and brilliant, and "Jules and Jim" from Truffaut.
There was an art cinema in Toronto, about an hour from where I lived, that I attended on weekends once I could drive, and there I was introduced to the works of Bergman, early Polanski, Kurosawa, Fellini, Truffaut, Antonioni, Ray, Bertolucci, and the brilliant Wertmuller, whose work I adored. In this theatre I watched the early documentaries of Reifenstahl, the work of Renoir, and of course the Neo-Realistic Italian cinema of the 1940s that so influenced Elia Kazan.
I watched with wonder as a doctor tried to bring the basics of society to a boy in "The Wild Child," was stunned at "Seven Beauties" and "Swept Away," including the astounding performances of Giancarlo Gianninni.  Bertolucci's superb "The Conformist," his masterpiece "Last Tango in Paris" and "1900," the bizarre visuals of Fellini, including his failure, "Casanova," the breathtaking work of Werner Herzog.  I struggled sometimes with Bergman, but admired "Cries and Whispers," "Face to Face," "Scenes from a Marriage," "Autumn Sonata" and "Fanny and Alexander."  The staggering beauty of "Ran" and "Kagemusha."  And "Das Boot," to name a few.
Video, and later DVD of course, opened the floodgates for foreign language cinema and like most film nuts, I am obsessed with it. From "Au Revoir les Enfants" through to Walter Salles and "Central Station" and the mesmerizing "The Motorcycle Diaries," I have watched these films and learned so much about the cultures and dreams of the people in these countries. If there is one thing in particular foreign language cinema offers it is an unflinching eye at the world around them.
The single greatest film about the First World War is the French work "A Very Long Engagement," while the best film about Hitler remains the German work "Downfall."  One of the greatest fantasy films ever made is the extraordinary "Pan's Labyrinth" while the work of Lars Von Triers is both erratic and challenging, always interesting.
Finally, are Canadian films "foreign?"  Our country has won a single Academy Award for Best Foreign Language Film, Denys Arcand's superb "The Barbarian Invasions," which was in French. Being largely an English-speaking country, the only Canadian films eligible for the award are those spoken in a language other than English. So "The Decline of the American Empire" and "Jesus Of Montreal," both French, were nominated, while "Water" in Hindi was also nominated. Yet a lot of outstanding Canadian work cannot be considered a foreign film. Odd isn't it?
If the Academy came to its collective senses and allowed the category to be called "Best Foreign Film," we Canadians would have seen work such as "Away from Her" or "The Sweet Hereafter" nominated, but sadly that is not about to happen.
So again, while I may prefer American cinema, let me make it crystal clear that as a critic and an educator, it has been my duty to both study and understand and screen foreign language films, which I do with the greatest of pleasure. If there is a single reader who really believes I do not celebrate or love all films, you really have never read my work, nor do you understand me at all.