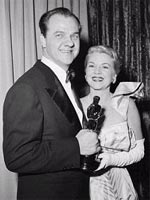 • This week's Off the Carpet column took a long, hard look at the ramifications of a 10-nominee Best Picture race.
• As the popular game of expanding past fields to ten continued, we joined in the speculation.
• Meanwhile, AMPAS added 134 members to its voting body, from Seth Rogen to Danny Boyle to Peter Gabriel.
• And they furthered their controversial remodelling, scrapping all honorary awards from the Oscar telecast.
• We bade a sad farewell to Oscar-winning actor and former AMPAS president Karl Malden.
• In other disheartening news, Michael Bay's "Transformers" sequel rocked the box office.
• We championed "An Education" and its star Alfred Molina, while the film was the subject of this week's Page to Screen column.
• With "Public Enemies" on everyone's mind this week, we counted down the best performances from Michael Mann films.
• The Edinburgh Film Festival wrapped, handing its top award to Duncan Jones's "Moon."