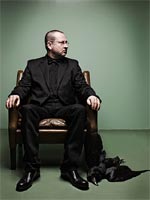 By far the boldest, baldest expression of auteur identity I've seen in recent times came in the opening credits of Lars von Trier's "Antichrist." It's a sequence that consists of precisely two emphatically scrawled title cards — "Lars von Trier" and "Antichrist" — in that order. No actors, no production credits, no "a film by," nothing. Lars von Trier. Antichrist.
It's an insistent, slightly tongue-in-cheek declaration of full creative ownership — the film that follows is entirely the product of his own imagination, and all other collaborators are merely at the service of his vision. It may strike some as an arrogant, even hostile, approach, but it drives home the point that he's one of the few contemporary filmmakers who can legitimately claim the title "auteur" — the term coined by New Wave doyen Francois Truffaut to assert the rise of directorial control in a previously producer-centered artform.
How many directors in the current film lanscape can boast that kind of brand-name power? It's a question raised by critic Kaleem Aftap in an interesting — and highly debatable — piece in today's Independent, in which he argues that, in America at least, the notion of auteurism is on the way out:
Films directed by Truffaut himself, Jean-Luc Godard, Martin Scorsese and Francis Ford Coppola (used to be) must-see events. At its height, the draw of the auteur was such that films by the Italian modernist Michelangelo Antonioni would regularly appear in the top 25 box-office hits of the year. The right director's name on a poster was enough to sell tickets and what the directors would do next was something to be genuinely excited about. Now barely any film is sold on the director's name alone.
He continues:
Tarantino is possibly the only American director working today who can open a movie on name alone. Even his cachet has dropped a little with the failure of Grindhouse; no wonder Brad Pitt has been drafted in to get Inglourious Basterds off the ground. It's a back-up strategy that Scorsese has been using ever since he helped to establish Robert De Niro as box-office dynamite. More recently, Scorsese has called on Daniel Day-Lewis and Leonardo DiCaprio to get bums on seats. In the same way, Michael Mann cast Tom Cruise in Collateral and now Johnny Depp in Public Enemies, and when he adapted Miami Vice for the big screen, the Oscar- winning Jamie Foxx was called up to support Colin Farrell. It's a clear sign that across the industry, no studio believes that a director alone can open a movie. Producers are increasingly hedging their bets to minimise their exposure to risk and unsustainable financial losses.
Now there are more than a few holes in Aftab's argument. For starters, major auteurs have always had a relationship with major stars to some extent — that's an key part of the power they wield. (One only need look back to how Kubrick subversively manipulated Ryan O'Neal's macho star persona to convey the emotional remove of "Barry Lyndon" to see how stars and auteurs can be mutually beneficial.)
Moreover, his assertions take us into chicken-and-egg territory of a sort — yes, the all-star cast was integral to the success of "The Departed," but would Nicholson, DiCaprio, Damon et al have congregated without the auteur allure of Scorsese?
But while I take issue with some of his points, I must agree that, of the filmmaking generations that succeed the Spielbergs and Scorseses, only Tarantino exerts that kind of universal ubiquity — the kind of name that would at least be recognized by non-cinephile teenagers and pensioners alike. And as much as film lovers like us label Paul Thomas Anderson or Michael Mann leading auteurs, the truth is that those names mean little or nothing to the man in the street. (By that token, Tyler Perry has more auteur heft — at least within a very specific demographic.)
Is it an entirely bad thing? Similar to the notion of great ensemble playing, there's much to be said for films that represent a satisfying synthesis of collaborative talent — a Stephen Frears is no less admirable for his unassertive, versatile directorial aesthetic. And there are still any number of still-vital auteurs — from Pedro Almodovar to Mike Leigh to Todd Haynes — whose films are immediately identifiable as theirs from a hundred paces.
If we're in an age where their names aren't quite enough to sell a film to general audiences — and yes, we seem to be long way from the days when a film's poster could simply proclaim "Cruise Kidman Kubrick" — then that's the failing (or, dare I say it, the dumbening) of contemporary audiences, not the filmmakers.
Read the rest here.