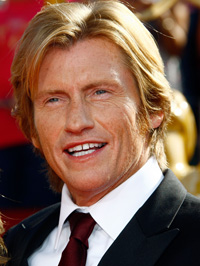 We rarely cover television with any real focus around these parts, but as you've probably gathered from my sporadic posts on the matter, I'm really digging the new season of "Rescue Me."  So it was a little difficult to pass up an opportunity to sit down with the film's star and co-creator Denis Leary recently.
With the Emmy nominations set to be unveiled next week (7/9), it seemed the perfect time to get together.  Leary was nominated for his performance as FDNY firefighter Tommy Gavin two years in a row in 2006 and 2007, but was unfortunately ignored last year.  Perhaps this new, electrifying season will put him back in the awards saddle as he seeks his first win in the category of Outstanding Lead Actor in a Drama Series.
Leary, of course, got his first big break on MTV, where his chain-smoking, ranting misanthrope appealed to the pent-up angst of the network's target audience.  From stand-up to film roles and finally a break-out FX series, now in its fifth season, Leary has continued to stretch himself both as a writer and an actor.  His most recent big screen appearance hit screens yesterday in the form of "Ice Age: Dawn of the Dinosaurs."  Leary voices the sabertooth tiger Diego in the successful franchise.
On a drizzly Santa Monica afternoon last month we met for lunch and discussed his versatile career, from his early years at Emerson College in Boston to his recently released best-selling comedy book, the edgeless MTV of today to his distant cousin Conan O'Brien's assuming the "Tonight Show" throne on NBC late night.  Oh yeah, and plenty of football talk between fellow devotees, for all the gridiron fanatics out there.  There's a little something for everybody…
1) Once upon a time you taught at Emerson College in Boston, which is where you met your wife (who says you were "an easy A.")  What was that experience like for you?
"I hate to say this but it wasn't like real teaching.  I was fresh out of school there.  The kids I was teaching were slightly younger than me by one or two years.  It was actors learning to write and writers learning to improvise and basically I was the moderator.  My comment was as fair as anybody else's comment.  It was just a creative workshop seminar.  It was great for me because there were some really extraordinary people.  The talent at the school at that time was really astonishing.  It's a great school.  My son's there now.  The facilities are amazing now but it's still geared primarily toward filmmakers, actors, writers and the theater."
EDITOR'S NOTE: Emerson students at that time included Laura Kightlinger (actress/comedian, "Saturday Night Live"), David Cross (actor/comedian, "Mr. Show," "Arrested Development"), Gina Gershon (actress, "Cocktail," "The Insider," "Rescue Me"), Mario Cantone (actor, "Sex and the City," "Men in Trees"), Lauren Dombrowski (writer/producer, "MAD TV"), Steven Wright (comedian/actor, "Reservoir Dogs," "So I Married an Axe Murderer"), John Frink (writer, "The Simpsons"), Anthony Clark (actor, "Boston Common," "Yes, Dear"), Doug Herzog (President, MTV Networks), and Richard LaGravanese (writer, "The Fisher King," "The Ref," "The Bridges of Madison County" and countless script doctor jobs).
2) How did you take to college when you were a student anyway?
"It was great.  Saved my life.  It was the only place I got into.  The one thing I knew how to do at that point was act up so I got an audition and my parents didn't have any money so I got a scholarship.  It's the only way I would have gone to college.  My first day there I was like, 'This is going to work.'  Steve Wright said this once, it's all creative people, there's tons of chicks, it's like three girls to every guy and two out of every three guys was gay.  It was unbelievable."
3) Now that you've built a successful career and have more credentials than you did the first time around, would you ever consider teaching again?
"To me, when I was a kid going to school there, the thing that made the biggest difference, without denigrating anybody, is that they'd bring in a famous person or a person whose work was public and they'd do a Q&A.  And for me, if you can ask someone who's in the business specific questions, that always meant more to us than having someone lecture.  That kind of thing is more up my alley, because it's direct information and it's easy access."
4) So what do you do on Tuesday nights?  Are you at home watching "Rescue Me?"
"No, well, for me, unless I produce it, I don't see it.  I can always find a way to fault it and make it better.  I never saw 'Recount,' I never saw 'True Crime,' I don't see most of the things that I do.  Obviously with 'Rescue Me' I've got to see it from the beginning through the end.  But it's easier just to let it go and let people react to it.  This season really felt great to us and it kept feeling great all the way through but I just don't know what the audience is going to think because we work in a vacuum."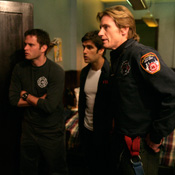 5) Lots of great roles for women on this series. Callie Thorne, Andrea Roth, Gina Gershon, Milena Govich, Karina Lombard and Marisa Tomei…
"It's kind of an embarrassment of riches.  And we've also got Maura Tierny at the end of this season doing something, besides the theater, that she's never done before.  And later on Janet (Roth) and Sheila (Thorne) actually start doing episodes where they start spending a lot of time together towards the end of the season.  It's very unusual to have Andrea Roth and Callie Thorne on the set at the same time because their characters rarely interact.  It's a completely different vibe than having a bunch of guys in the firehouse.  Callie's really strong and likes to improvise and Andrea is much more in control of just the stuff that she gets."
6) Is there much improvising on the set in general?
"Yeah, there's a ton.  We write two episodes at a time because we really like to have the actors kind of show you where they feel the storyline is going in terms of intense or funny or the friction that's going on, so we're never ahead of ourselves.  The guys, by nature of having six or seven or sometimes eight guys in a room talking at the same time, will take the dialog, but once we get in the room, anybody can say anything.  Sometimes somebody says something and everybody's in character, we end up going some place we never thought of going.  So the actors know they have the freedom, plus they're so good at their characters at this point."
7) You've been Emmy-nominated for your work on the series as both a writer and an actor.  Does one of those distinctions mean more to you than the other?
"The thing that means the most is getting mentioned and nominated because it helps the show, but it's a really weird thing for me.  For the most part, I know a lot of these guys just because I've been in show business for so long, like Keifer, Hugh Laurie I knew from London.  When I started 'No Cure for Cancer' in London I made a lot of friends in the theater there.  When I lose, it's usually a guy I know who I also admire.  But to me it's literally like going to the prom.  I've been there so many times, I know where the smoking is.  They switched theaters this year and I went backstage, it was the same security guys, so I set up the smoking thing back there, I know where to get the food, I know where to get the drinks, I'm like the drug dealer in high school.  (Kevin) Spacey went this year for the first time and he says, 'Where do we smoke,' and I'm like, 'Follow me!'"
8) Certainly one of the awards prospects for this season is Michael J. Fox's 9-episode performance as Dwight, a new love interest for Janet Gavin.  How did that character come about and how did you settle on Fox for the role?
"(Series co-creator) Peter (Tolan) conceived of a guy that would be so fucked up that he would be a challenge to Tommy.  The show is ultimately about male ego, male pride, being a man, that's the heart of the show: 'What is it to be a man?'  So to have a guy that could drink Tommy under the table and, as he comes to find out, could fuck him under the table, who's totally self-centered because he's a pill-head and an alcoholic and doesn't give a fuck about Tommy, and when he gets into a discussion with Tommy, it's like going into a black hole because this guy's pain is a completely different kind of pain than Tommy's pain, that was an interesting idea, that that is the guy Tommy comes in and finds in his ex-wife's house.
"Mike Fox wasn't even my idea.  They wanted to stunt cast it but sometimes that gets into long lists of people and some of them are unrealistic and Peter said, 'What about Mike Fox?'  And I said, 'Man, that would be really interesting.'  And he's an old friend of mine, so I knew that he wouldn't go to work to play just another Mike Fox-type of role.  He doesn't need to.  And I knew that he'd take the challenge on.  People don't realize he did a great film, 'Casualties of War,' with Sean Penn.  He's a good dramatic actor, he just doesn't get the chance.  He gets pigeonholed.  Everybody does.  So it's not something he normally would get.  I knew he would bite.  But God he was great."
9) Other than HBO's "Recount," which you mentioned, you haven't appeared in a live action film since 2002's "The Secret Lives of Dentists."  Is anything in the works or does the show just take up all of your time?
"The show takes so much time that I turn everything down.  To take the two months or three months I might have off and go into 12 weeks or eight weeks, it's a lot of down time on somebody else's set.  Plus, the bigger the movie, the better the odds are it's gonna suck.  I kind of got to the point where I've got my own things I want to write and develop for myself that are always going to be much smaller movies.  But I keep an ear open, like when 'Recount' came along.
"It's hard, man.  Movies are difficult.  And most of them suck.  Sometimes you don't know until you get there that something's missing, so there's two ways for me.  One is, you're going to make a big movie, pay me a shitload of money and hopefully there's somebody I'll have a good time with on the cast because you know it's going to be long hours.  Most directors don't shoot the way I like to shoot.  Most guys do 30 or 40 or 60 takes, you know.  I gotta get paid for that.  If there's an extraordinary thing, if there's a guy I haven't worked with, which at this point is, like, Al Pacino, then it has to be, if it's not big money or a giant paycheck, it's got to be something really interesting.  And they don't come along very often.  It eats up my downtime where I can be writing.
"The writing thing kills the acting thing sometimes.  I can't manufacture a lot of material in my head when I'm doing 'Rescue Me' unless it's stand-up because I've got to be focused on that the whole time."
10) Speaking of stand-up, you did this promotional comedy tour with the guys on the show.  Unfortunately I missed the L.A. show when you played the new Nokia Theater, but what was that experience like?
"I don't know why, but the L.A. show was unbelievable.  Nothing against L.A.  Certain cities have certain vibes, but L.A. crowds are a little bit like New York.  They want you to prove yourself and they're show business-literate, so we were really surprised because they were just raucous from the opening number.  It was great."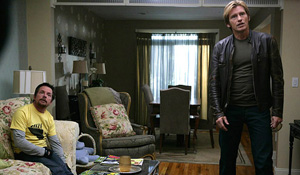 11) And you've got a new book that hit shelves last year, "Why We Suck: A Feel Good Guide to Staying Fat, Loud, Lazy and Stupid."  Why did you decide to write it?
"Money.  Money and to talk about male ego.  I had a contract years ago but I just gave the money back because I got really busy.  But I have a lot of friends who have written books, so I almost felt like it was a challenge.  A couple of friends made snarky remarks: 'Yeah like you're ever going to write a book.'  I was like, 'I can write a fucking book.  Fuck you.'  That was literally my attitude.  So I took the money and I kept putting it off, and then the writers' strike happened.  I had been making notes about it and finally sat down to write this thing.  Once I got going, it just becomes a challenge, like, you just do it.
"When I went on tour, the only old thing I'll do is, like, the 'Asshole' song.  But it's a personal challenge.  I don't want people to pay 28 bucks for this book and then pay to see me in concert and then see the same shit.  So the challenge became not doing any of the stuff in the book, except maybe once or twice touching the stuff, and then do all new shit, which is what I said to the guys about next year when we go back to doing the comedy tour, nobody, except the asshole song, you can't repeat anything.  I mean, you can get away with it, but I went to see Steve Martin when he first got big.  I had no money at the time — I think it was 30 bucks at the time, it was a fucking shitload of money.  He did the same stuff that was on the album, and we kind of liked it, but by the second 20 minutes it was like, 'What the fuck?'  And then he came through again like three months later — and again, I'm not faulting him — we went to see him again, and it was the same shit.  And that time we were like, 'Fuck this.'  So I have a sense of, if they're going to come, they don't want to see the same shit."
12) So when was the last time you saw an episode of "Remote Control?"
"Oh God!  I don't know.  Probably during the (Comedy Central) roast.  That was a pretty amazing show.  It was (Adam) Sandler, me, Ken Ober, Colin Quinn, Ben Stiller, a couple of the writers out of that, Mike Armstrong and…I'm forgetting guys…went on to write television and film.  Joel Stillerman, who was one of the producers, is the head of AMC.  There was a lot of talent on that show, which at the time we didn't know.  We just thought it was a bunch of young guys getting a break."
13) As someone who grew up during MTV's glory years and watching you in the early 90s do your thing, it's been troubling to see the network where it is today.  What are your feelings on that?
"I never watch it.  Well that's actually a lie, I watched it recently because I was working out in the morning and flipping by and I saw music videos.  I couldn't believe there were actually music videos on MTV.  But I don't know, man.  It's hard to say.  It was a great place when we were there because it was music, and then it became cutting edge with 'Yo! MTV Raps' and that stuff, and comedy-wise it started to get cutting edge.  Music delivery is such a different thing now than it was back in the MTV days."
14) Your distant cousin Conan O'Brien is taking over the reins from Jay Leno on "The Tonight Show" now.  How do you think he'll do?
"He's going to be fine.  I like the way the set looked.  But I did Craig Ferguson last night (6/2/09) and that guy's on fire.  His opening monologue is so loose, it's really unbelievable.  I think that guy's really opened up his own area.  And Conan is going to be a lot more formal now because of that setting.  This is just my gut, and people are bitching about it but I think it's a good thing, but I think people like my mother, who's 82, are going to love to watch Jay at ten o'clock because they want to go to bed.  And they love Jay.  That's going to make programming at ten o'clock much cheaper for all the networks.  They're going to lean in that direction.  It's going to make the business that I'm in, the ten o'clock, hour-long drama, it's going to force it more into cable, which is where it should be because you can take more chances.  Everybody's going to be happy.  That's what I think.  It's going to be beneficial to actors and writers and producers over the long haul."
15) I've actually read that Jeff Zucker once proposed a ten o'clock variety show for Oprah Winfrey on NBC.  Have you ever done her show?
"I did Oprah when I was pushing that book.  It was unbelievable.  I mean, that chick is like Letterman.  She's such a fucking pro at what she does.  She never has to look at cards.  She knows exactly what she's talking about.  She's actually really fucking funny.  I was really impressed.  Never mind the fact that your book goes through the — my book was on the bestseller list and on its way off.  I went on her show, it got another three-and-a-half months on the bestseller list because of her.  I mean literally, if she says, 'Buy a gun and shoot your dog,' people buy a gun and shoot their dogs.  She's got it.  She's the Pope of show business."
16) I hear you're a big football fan and a Green Bay Packers fan in particular.  What do you think of the Brett Favre controversy?
"I'm a Packers fan from when I was a kid.  My older brother and I had to share a room, first in the attic, then in the basement.  We fought like fucking cats and dogs.  He was a Patriots fan, so — this was the late-60s — I picked the fucking Packers, because they were the best football team at that time, just to piss him off.  And then I got stuck with that team.  So I've been through thick and thin, with the great Packers and the really sucky Packers and then Brett Favre, and I've got to tell you man, I mean, I don't know the guy, but…what the fuck?  You reach a certain point, your wife had cancer, you've got shitloads of money, your dad dies, you've got a championship, you pretty much have everything.  I'm not a professional athlete.  I've known a couple of guys.  It's not like my job or your job where you can do it forever.  He lives on a farm.  Like, there's that day where they say you can't do this anymore, and the idea of getting back on the fucking ride-along tractor with your cousin, who might be a complete moron who's working on your farm, who you're going to spend all day with, that compared to football?  I might take football.  But at this point, the Jets thing, I was totally against it but I was like, 'Alright, we'll give you that.'  Now he's going to go to Minnesota?  You've got to be kidding me.  He's destroying his own legacy."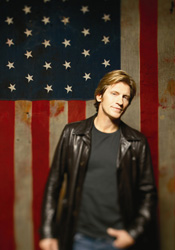 17) Oh…"Demolition Man?"  Really?
"I got paid a shitload of money.  I never saw the finished product but I've seen scenes of it throughout the years.  Not only did I get paid a lot of money but (Sylvester) Stallone burst a blood vessel during a stunt scene and we got delayed by a month and a half, so we all got paid a penalty on top of that.  It was great.  And that was Sandie Bullock's first big thing.  Because it was a gigantic project, it was constantly changing.  But I mean it was what it was.  I was a young guy and it was really interesting to be on the set and watch the pure amenities of Stallone's set-up.  He had a golf pro, he had a golf driving range wherever he went.  (Wesley) Snipes had a posse of security guys and a motorcycle — he was literally living in his own science-fiction world.  So it was really interesting to see every day when you went to work.  My eyes and my ears were like sponges."
18) I'm just teasing.  It's a guilty pleasure, I'll admit.  And hey, you got to get one of your rants in there, right?
"Which is why they hired me.  I had to write that and pass it through their studio system to get it okayed.  It took forever.  FOREVER."
19) You seem to have a plenty of industry stories to go around.  Would you ever consider writing a tell-all?
"Probably not.  I would never write a kiss-and-tell thing because it's not my cup of tea but I certainly have enough fun stories that wouldn't damage other people that are mostly on me or on guys that are famous that are friends of mine.  But then I get greedy about that because I'd rather tell those things on stage.  I don't know if it's in my wheelhouse, but never say never.  You never know how much money you're going to need in the future."
20) I like how up-front you are about the money thing.
"Well, you know, it's the truth of anybody's given circumstance.  You never know where you're going to be or where you're going to end up.  What people will do to feed themselves and their family is one thing but, hey, you know.  When you come out of working on something for a long period of time, even if it's something you love, and then you get to go do stand-up, because I do charity stand-up every fall, there's just nothing like it.  At eight o'clock the show starts and once it starts, that's it.  Nobody can cut it or edit it or whatever, it's just you and them.  It's a great gift to have."