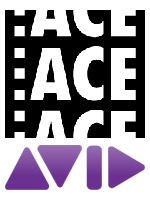 Sorry, I couldn't resist the anagram train on that headline, but this David Cohen story at Variety is interesting for us cinema tech hounds.  It seems the American Cinema Editors will be dishing out the first ever ACE Technical Excellence Award to Avid's Media Composer software, amounting to"an unprecedented endorsement of a commercial product," Cohen says.  Furthermore:
ACE is voicing both appreciation for its close relations with Avid and frustration with what it perceives as snubs from Apple, maker of Final Cut Pro, Avid's biggest rival.

The subtext of the kudo announcement is also a message to producers: ACE's members are frustrated about not having a choice of which tools they use, and they don't like being forced to use alternatives to Avid.

All this is coming at a time when ACE editors are feeling restive over job security in the wake of the production slowdown and changes in TV patterns and orders.
It amounts to inside sniping more than an actual watershed moment for the craft as far as I'm concerned.  Cohen quotes ACE board member Harry B. Miller III as complaining that "Apple and Final Cut Pro doesn't listen, doesn't respond, doesn't solicit [industry editors'] opinion."  Let's drag it out in public then, shall we?  Oy.