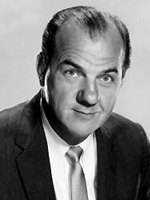 In the wake of actor Karl Malden's death at the age of 97 yesterday, a number of appreciations, remembrances and good old fashioned obituaries have predictably flooded the net.  I thought I'd collect as many as I could in this space, beginning with, for me, the most heart-warming sentiment of the lot.
John Farr at The Huffington Post:
It's sad and scary both to say goodbye to you, because you represented the last man standing from a period in film-making whose like we won't see again.
Robert Berkvist at The New York Times:
Mr. Malden was perhaps the ideal Everyman. He realized early on that he lacked the physical attributes of a leading man; he often joked about his blunt features, particularly his crooked, bulbous nose, which he had broken several times while playing basketball in school. But he was, he once said, determined "to be No. 1 in the No. 2 parts I was destined to get."
(More after the jump.)
Glenn Kenny at Some Came Running:
You want to talk about actors with no vanity? This guy is where you start…Any man who dies at the ripe old age of 97—there's not much you can say besides "God bless him." In the case of Mr. Malden, it would be fitting to say "God bless him" one or two times over.
Richard Natale at Variety:
Although loving caricatures of Malden emphasized his bulbous nose…, his authoritative yet soothing voice was probably his most distinctive and unmistakable characteristic, familiar to American audiences in voiceover in countless TV commercials. As pitchman for American Express Travelers Cheques, he established the indelible catchphrase "Don't leave home without it."
Andrew O'Hehir at Beyond the Multiplex:
Malden was born in Chicago as Mladen Sekulovich, the son of a Serbian father and Czech mother, and spoke no English until he went to school. This heritage is the source of his great gift to pop-culture trivia collectors, since Malden went to great lengths to include his original name in the dialogue of his films and TV shows.
Roger Ebert at the Chicago Sun-Times:
Malden was a much loved, straightforward, plain-spoken family man who rarely made a gossip column and was married since 1938 to Mona Greenberg, who survives him. It was one of Hollywood's longest running marriages.
Dennis McLellan at the Los Angeles Times:
In a movie career that flourished in the 1950s and '60s, Malden played a variety of roles in more than 50 films, including the sympathetic priest in "On the Waterfront," the resentful husband in "Baby Doll," the warden in "Birdman of Alcatraz," the pioneer patriarch in "How the West Was Won," Madame Rose's suitor in "Gypsy," the card dealer in "The Cincinnati Kid" and Gen. Omar Bradley in "Patton."
Jeffrey Wells at Hollywood Elsewhere:
We should all be around so long and look back on such a full and accomplished life. Malden was a solid and believable presence in 70 films on top of his run in that 1970s TV cop series, called Streets of San Francisco.
Nathaniel Rogers at The Film Experience:
Malden's career was much larger than mama's boy Harold "Mitch" Mitchel but that classic role, which he originated and owned, is a vital part of his legacy.
Anne Thompson at Thompson on Hollywood:
While Malden played his share of villains, he was known for his decency, finally. He represented something good in all of us.
David Poland at The Hot Blog:
The guy was, by all accounts, a mensch… even if he forced the questionable award for Elia Kazan at the 1999 Oscars… in his work… in his industry involvements…in the community.
Russ Fischer at /film:
Malden hadn't worked regularly since the early '90s, but he remained representative of genuine actors who could embody a wide range of characters, and who found success without matinee idol looks.
Bob Westal at Premium Hollywood:
His best scenes were like great duets with near perfect communication between him and his scene partners. The exception were American Express travelers' checks; those, he wiped off the screen.
Jeremy Smith (a.k.a. Mr. Beaks) at Ain't It Cool News:
You can't do ninety-seven years much better than Karl Malden.
Adam Bernstein at The Washington Post:
He was particularly memorable as the cruel father of baseball player Jim Piersall (played by Anthony Perkins) in "Fear Strikes Out" (1957), the fire-and-brimstone minister in Disney's "Pollyanna" (1960), a sheriff who whips outlaw Brando in "One-Eyed Jacks" (1961) and an inflexible warden in "The Birdman of Alcatraz" (1962), with Burt Lancaster as his famous prisoner.
Matt Goldberg at Collider:
Malden was one of the all-time great character actors, appearing in over 70 movies and TV shows, and making his name in such classic films as "On the Waterfront", "Baby Doll", "Birdman of Alcatraz", "Gypsy", "Patton", and "A Streetcar Named Desire" for which he won the Academy Award for Best Supporting Actor in 1951.
Anonymous at CNN:
Malden's "Streetcar" Oscar had its own mini-drama. In 1985, he sent it to the manufacturer in Chicago for replating. But he discovered the award sent back to him was a fake in 2006, when the original appeared for sale on eBay. The Academy sued the sellers, Randy and Matt Mariani, who eventually returned the award.
Craig Kennedy at Living in Cinema:
I knew Karl Malden first as the guy from the American Express commercials in the 1970s, but he'll probably always be best known as Lt. Mike Stone on TV's The Streets of San Francisco which ran from 1972 – 1977.
Duane Byrge and Gregg Kilday at The Hollywood Reporter:
With his craggy face and bulbous nose — he liked to say he had "an open-hearth face" — Malden didn't possess matinee-idol looks, but he projected a familiarity and a fire that made him identifiable as an average guy who could rise to the occasion. Audiences respected him for his down-to-earth, lunchpail style.