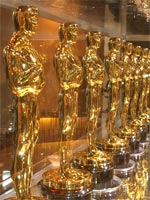 Since the Academy announced the new ten-lane track for the Best Picture race, any number of bloggers have projected which extra films might have made the cut under this format in the last few years, a process that, for many, retrospectively hands hypothetical nods to everything from "Doubt" to "Memoirs of a Geisha" to "My Big Fat Greek Wedding."
It's a process that is as dispiriting as it is occasionally heartening, but so far there hasn't been much informed analysis of how the Academy's weighted balloting system might affect the lower reaches of the list. (I must wonder, for example, whether a "Geisha" had enough number-one votes to even crack a list of ten — the new format will certainly test the remaining power of the studio system.)
Anne Thompson, however, offers by far the most interesting backward-glancing "what-if" piece I've yet read, in which an unnamed (but clearly authoritative) film historian digs a little further back to consider what a ten-nominee Best Picture category might have looked like in the years from 1967 to 1979.
This is a fascinating period of Oscar history, one which found the Academy still partially trapped by the conservative machinations of the studio system, while simultaneously going some way towards embracing the shock of the new.
As such, while the Best Picture race served up shamelessly studio-bought nominations for irredeemable flops like "Doctor Dolittle" and "Nicholas and Alexandra," the voters also demonstrated newfound adventurousness by acknowledging foreign-language fare (with 3 nominees in the space of 5 years), as well as populist genre hits like "Jaws" and "The Exorcist." In keeping with the decade's re-energizing of American filmmaking, the 70s were arguably the Academy's gutsiest decade.
Thompson's source keeps this in mind as he compiles his speculative nominee lists, suggesting daring arthouse and foreign-language titles ("Last Tango in Paris," "Women in Love," "Seven Beauties") alongside crowd-pleasing blockbusters ("Saturday Night Fever," "The Poseidon Adventure") and a fair amount of studio-pushed failures.
It's in the latter category that the case against ten nominees is made most clear. It's embarrassing enough that abominations like "Dolittle" will forever have the title of Best Picture Nominee thanks to crafty campaigning, but shouldn't we be grateful that such drek as "Camelot," "Star!" and "Tora! Tora! Tora!" didn't get to join them? The thoughtful analysis that accompanies each year's projections makes it all too plausible, however, that they'd have made it. As intriguing as the thought of "Alien" or "The Garden of the Finzi-Continis" coloring up the race is, you have to wonder if it's worth the inevitable concessions to studio manipulation.
In other words, to bring the argument up to date, I'm not sure whether the critical and commercial cache of having "WALL-E" on this year's list would have compensated for the all-out terror (for me, anyway) of seeing "Gran Torino" beside it. As Thompson herself says of her source's projections, "adding five sometimes improves the choices, but often does not." As for which side of this equation the Academy falls on, 30 or 40 years on, we must wait and see.
Read the rest of this fascinating exercise here.