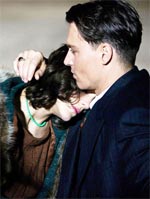 With Stateside critics somewhat split on "Public Enemies," I was interested to see what the UK reception for the film would be like. For all the brawny Americanness of his aesthetic, Michael Mann has many passionate apologists on these shores — he even received a BAFTA nod in 2005 for "Collateral" — perhaps to some degree because Britain is where he studied film and began his career.
On this occasion, however, the limeys aren't feeling the love, as the film has opened to a raft of disappointing notices from the major British broadsheets. Wendy Ide at the Times of London is harshest, calling the film "a bloody, muddy mess." She's no fan of the film's digital aspects, perhaps rather naively complaining about the lack of studio sheen:
Mann's aim appears to be to develop a new, distinctive digital aesthetic. Which is admirable in theory, but Mann's digital aesthetic seems to involve making the movie look as grimy and unpolished as possible. Post-production is for wimps. That irresistibly glossy, larger-than-life reality created by Hollywood movies is diminished here. The flat glare of the digital camera emphasises the artifice of the film-making process rather than bringing the hoped-for gritty authenticity to the story.
Like Ide, Sukhdev Sandhu at the Telegraph affords the film a mere two stars, decrying — as many critics have — the film's emotional distance, but rather surprisingly laying much of the blame at Johnny Depp's feet:
Depp looks great in his Fedora and long coats. He's not bad at pulling out a tommy gun and spraying bullets at police agents, either. But these are costume changes, gestures and poses, little more than wan impersonations. He's bloodless, a vacuum at the centre of the film, unwilling or unable to risk any kind of emotional investment in or make a stab at interpreting his character … how has it come to pass that so blank a performer is regarded as star material?
Sandhu is not the only one who has a problem with Depp's work: the Guardian's Peter Bradshaw actually finds himself more taken with Christian Bale's "formidably convincing" performance in the secondary role. That said, Bradshaw likes the film rather more than the two previously mentioned critics, praising the fluidity of Dante Spinotti's lensing and Mann's affinity for big action set pieces, but ultimately finds it less than the sum of its parts:
Mann's G-Man opera has the ingredients of a great film which don't quite come together. But they are certainly potent. There is a surging, sombre orchestral score by Elliot Goldenthal which channels the spirit of Bernard Herrmann's music for Taxi Driver. It's a picture with virility and confidence, and unlike Dillinger's machine-gun, which the man himself expertly takes to pieces, it never quite jams, and gets off one or two lethal rounds.
Robert Quinn at the Independent offers a similar "good-not-great" pronouncement, admiring the film's construction and individual set pieces, but complaining of "too much bustle" in the film's narrative, with Depp and Bale both lacking "the weight to fight the kind of duel Mann wants."
Three years after "Miami Vice" arguably found more defenders abroad than at home, this is something of a cold shoulder for Mann. It'll be interesting to see if audiences here respond more enthusiastically.