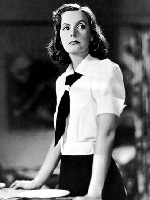 TCM is showcasing the great productions of 1939 tonight, kicking it off a few hours ago with "The Wizard of Oz," which followed a two-hour doc on the film.
I wish I had gotten this post up earlier so as to give you the heads up, because I just clicked through the DVR and came across the documentary "1939: Hollywood's Greatest Year," which was presented as a world premiere amid the network's night-long salute to the 70th anniversary of what is still considered in most circles to be the finest 12 months of cinematic output on these shores.
You know the films: "Gone With the Wind," "The Wizard of Oz," "Stagecoach," "Ninotchka," "Mr. Smith Goes to Washington," "Of Mice and Men," "Goodbye, Mr. Chips," "Gunga Din," "Juarez," "Wuthering Heights," etc.  I really don't think there's ever been a more impressive line-up, and only 1999 has ever come close.  And what a year THAT was.
The film was directed by Constantine Nasr and narrated by Kenneth Branagh, featuring talking head interviews with Leonard Maltin, Thomas Schatz, F.X. Feeney and Aubrey Solomon, among others.  Clark Gable and Greta Garbo are presented as the faces of an industry really beginning to boom, while Louis Mayer is featured as the lion of his time.  Many of the films are broken down briefly from an artistic standpoint, but mostly for their place in movie history.
For those on the west coast, there's still time to catch some of these films or set the ole' DVR.  "Ninotcka" is on now, followed by "Babes in Arms," "Idiot's Delight" and "The Little Princess," among others.  It's a shame the big titles couldn't be featured, but I guess the idea was to spotlight some of the less obvious titles.
And if you get a chance to check out the doc, do so.  It's a nice primer on a great year in Hollywood's history.
What was your favorite 1939 film?  I have to go with the obvious, personally: