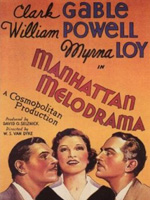 Speaking of John Dillinger's final hours, it's worth pointing out that TCM will be showing a slew of classic gangster titles tonight, including the Clark Gable starrer "Manhattan Melodrama," which was the last film Dillinger would ever see.  Mann makes considerable thematic use of the film in "Public Enemies," as noted by critic F.X. Feeney in an exchange with Jeffrey Wells two days ago:
"I will admit La Cotillard takes the coupe du monde in [Mann's female characters'] honors, but then she is not only great in herself but that magnificent hall-of-mirrors moment when Dillinger contemplates her angelic double, Myrna Loy, in 'Manhattan Melodrama.' It seems to me that here, Mann grandly contradicts the old saw that men's 'immortal dreams of women' are 'unattainable.' From where Dillinger sits, that dream has been attained quite fully, thank-you-very-much. A ticklish mystery, this."
In addition to "Manhattan Melodrama," TCM will be showing "Fog Over Frisco," "G-Men" and the 2008 documentary "The Public Enemies: The Golden Age of Gangster Film."  Set your DVRs.