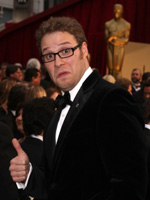 The headline says it all.  After bringing in 105 new members last year, the Academy has just announced a new list of 134 names to join their ranks.
Actors include Hugh Jackman, Anne Hathaway, Jeffrey Wright (woo-hoo!), James McAvoy, Casey Affleck (who should have been brought in after his 2007 nomination), James Franco, Michael Cera and Seth Rogen, as well as, of course, all of the first-time nominees from last year's season.  I was rather surprised to see Brendan Gleeson only now getting the invite.
A big huzzah to director Rod Lurie, who made the cut in the directors branch, along with last year's big winner Danny Boyle and animator Henry Selick, among others.  And another tip of the hat to Clint Mansell (robbed blind for his "Fountain" score two years ago), who joined the composers' ranks along with Peter Gabriel (another guy I figured would have been in long ago) and last year's winner in both music categories, A.R. Rahman.
Neither here nor there, since now we're getting to inside baseball, but a big shout-out to Paramount's Megan Colligan, who was allowed passage in the public relations arena.
Check out the full list after the jump.
Beverly Hills, CA (June 30, 2009) — The Academy of Motion Picture Arts and Sciences is extending invitations to join the organization to 134 artists and executives who have distinguished themselves by their contributions to theatrical motion pictures. Those who accept the invitation will be the only additions in 2009 to the Academy's roster of voting members.
"These filmmakers have, over the course of their careers, captured the imagination of audiences around the world," said Academy President Sid Ganis. "It's this kind of talent and creativity that make up the Academy, and I welcome each of them to our ranks."
The Academy's membership would have allowed a maximum of 166 new members in 2009, but as in the previous years, the several branch committees endorsed fewer candidates than were proposed to them. Voting membership in the organization has now held steady at just under 6,000 members since 2003.
New members will be welcomed into the Academy at an invitation-only reception at the Academy's Fairbanks Center for Motion Picture Study in Beverly Hills in September.
The 2009 invitees are:
Actors
Casey Affleck – The Assassination of Jesse James by the Coward Robert Ford, Gone Baby Gone
Emily Blunt – Sunshine Cleaning, The Devil Wears Prada
Michael Cera – Juno, Superbad
Viola Davis – Doubt, State of Play
James Franco – Milk, Spider-Man
Brendan Gleeson – In Bruges, Mission: Impossible II
Anne Hathaway – Rachel Getting Married, The Princess Diaries
Taraji P. Henson – The Curious Case of Benjamin Button, Hustle & Flow
Emile Hirsch – Into the Wild, Lords of Dogtown
Hugh Jackman – X-Men Origins: Wolverine, The Prestige
Melissa Leo – Frozen River, 21 Grams
Jane Lynch – Role Models, The 40 Year-Old Virgin
Eddie Marsan – Happy-Go-Lucky, The Illusionist
James McAvoy – Atonement, The Last King of Scotland
Seth Rogen – Monsters vs. Aliens, Knocked Up
Paul Rudd – I Love You, Man, Knocked Up
Amy Ryan – Changeling, Gone Baby Gone
Michael Shannon – Revolutionary Road, Before the Devil Knows You're Dead
Michelle Williams – Wendy and Lucy, Brokeback Mountain
Jeffrey Wright – Quantum of Solace, W.
Animators
J.J. Blumenkranz – Monster House, The Polar Express
Konstantin Bronzit – Lavatory-Lovestory, The Cat and the Fox
Kendal Cronkhite – Madagascar: Escape 2 Africa, Antz
Rodolphe Guenoden – Kung Fu Panda, Sinbad: Legend of the Seven Seas
Byron Howard – Bolt, Lilo & Stitch
Kunio Kato – La Maison en Petits Cubes
Doug Sweetland – Presto, The Incredibles
Chris Williams – Bolt, Chicken Little
Art Directors
Andrew Ackland-Snow – Harry Potter and the Order of the Phoenix, Notting Hill
At-Large
Matthew D. Loeb
Redmond Morris
Casting Directors
John Papsidera – The Dark Knight, Agent Cody Banks
Bernie Telsey – Sex and the City, Across the Universe
Cinematographers
Russ T. Alsobrook – Paul Blart Mall Cop, Forgetting Sarah Marshall
Anthony Dod Mantle – Slumdog Millionaire, The Last King of Scotland
Henner Hofmann – Ave Maria, La Leyenda de una Mascara (The Legend of the Mask)
Claudio Miranda – The Curious Case of Benjamin Button, Failure to Launch
Rodney Taylor – Save Me, Wired to Win: Surviving the Tour de France
Mandy Walker – Australia, Shattered Glass
Costume Designers
Deborah Hopper – Changeling, Million Dollar Baby
Louise Mingenbach – The Hangover, Superman Returns
Michael O'Connor – The Duchess, Miss Pettigrew Lives for a Day
Michael Wilkinson – Watchmen, Babel
Directors
Rachid Bouchareb – Days of Glory, Dust of Life
Danny Boyle – Slumdog Millionaire, Sunshine
David Frankel – Marley & Me, The Devil Wears Prada
Rod Lurie – Nothing but the Truth, The Contender
Thomas McCarthy – The Visitor, The Station Agent
Tyler Perry – Tyler Perry's Meet the Browns, Madea's Family Reunion
Henry Selick – Coraline, Monkeybone
Documentary
William Gazecki – Crop Circles: Quest for Truth, Waco: The Rules of Engagement
Rachel Grady – Jesus Camp, The Boys of Baraka
Rory Kennedy – Ghosts of Abu Ghraib, A Boy's Life
Scott Hamilton Kennedy – The Garden, OT: Our Town
James Marsh – Man on Wire, Wisconsin Death Trip
Megan Mylan – Smile Pinki, Lost Boys of Sudan
Doug Pray – Surfwise, Scratch
Executives
Daniel D.A. Battsek
Steve Beeks
Graham W. Burke
Joe Drake
Erik Feig
Paul Hanneman
Donald P. Harris
Claudia Lewis
Film Editors
Roger Barton – Speed Racer, Star Wars: Episode III Revenge of the Sith
Hank Corwin – What Just Happened, The New World
Chris Dickens – Slumdog Millionaire, Shaun of the Dead
Elliot Graham – Milk, Superman Returns
Kathryn Himoff – Appaloosa, The Sisterhood of the Traveling Pants
Leo Trombetta – Little Children, Northfork
Brent White – Step Brothers, Talladega Nights: The Ballad of Ricky Bobby
Pam Wise – Then She Found Me, Transamerica
Live Action Short Films
Reto Caffi – Auf der Strecke (On the Line), Leos Freunde
Jochen Alexander Freydank – Spielzeugland (Toyland), Dienst (Duty)
F. Carter Pilcher – The Dreaming, Bitter
Makeup and Hairstylists
Howard Berger – Seven Pounds, The Chronicles of Narnia: The Lion, the Witch and the Wardrobe
Mike Elizalde – Hellboy II: The Golden Army, Fantastic Four: Rise of The Silver Surfer
Louis Lazzara – Race to Witch Mountain, Terminator 3: Rise of the Machines
Gerald Quist – Tropic Thunder, The Santa Claus 3: The Escape Clause
Music
Jeff Danna – Lakeview Terrace, Fracture
Andrew Dorfman – Baby Mama, Nick & Norah's Infinite Playlist
Peter Gabriel – WALL-E, Philadelphia
Clint Mansell – The Wrestler, The Fountain
A.R. Rahman – Slumdog Millionaire, Elizabeth: The Golden Age
Producers
Mark Ciardi – The Game Plan, The Rookie
Christian Colson – Slumdog Millionaire, The Descent
Gordon Gray – Invincible, Miracle
Broderick Johnson – One Missed Call; P.S. I Love You
Cathy Konrad – 3:10 to Yuma, Walk the Line
Andrew Kosove – Racing Stripes, Dude, Where's My Car?
James Lassiter – Hancock, Lakeview Terrace
Russell Smith – Juno, The Libertine
Paula Wagner – Death Race, Elizabethtown
Production Designers
Donald Graham Burt – The Curious Case of Benjamin Button, Zodiac
Michael Carlin – The Duchess, In Bruges
Jane Ann Stewart – The Savages, Sideways
Kevin Thompson – Duplicity, Michael Clayton
Public Relations
Michael D. Camp
Marc Cohen
Megan Colligan
James C. Gallagher
David Kaminow
Sal Ladestro
Maria Pekurovskaya
Elizabeth Petit
Set Decorators
Rebecca Alleway – The Duchess, The Last King of Scotland
Peter Lando – The Dark Knight, The Invisible
Barbara Munch-Cameron – Bottle Shock, Rent
Scenic Artists
Robert Topol – Doubt, The Departed
Sound
Michael Barry – The Reader, Mamma Mia!
Derek Casari – The Soloist, Beowulf
Aaron Glascock – Deception; Good Night, and Good Luck.
Ren Klyce – Zodiac, The Fight Club
Peter F. Kurland – No Country for Old Men, Walk the Line
Karen Baker Landers – 27 Dresses, The Bourne Ultimatum
Hamilton Sterling – Fool's Gold, Scary Movie 4
Deborah Wallach – Frost/Nixon, The Da Vinci Code
Kim Waugh – Shade, Monster's Ball
Visual Effects
Christopher Bond – Idlewild, Superman Returns
Matthew Butler – The Mummy: Tomb of the Dragon Emperor, Letters from Iwo Jima
Chris Corbould – The Dark Knight, Casino Royale
Rob Engle – Jonas Brothers: The 3D Concert Experience, Beowulf
Scott Gordon – Nim's Island, Spider-Man 3
Hal Hickel – Iron Man, Pirates of the Caribbean: Dead Man's Chest
Van Ling – Milk, Vanilla Sky
Shane Mahan – Iron Man, War of the Worlds
Steve Preeg – The Curious Case of Benjamin Button, The Lord of the Rings: The Return of the King
Tim Webber – The Dark Knight, Children of Men
Edson Williams – Star Trek (2009), The Curious Case of Benjamin Button
Writers
John August – Charlie and the Chocolate Factory, Charlie's Angels
Dustin Lance Black – Milk
Courtney Hunt – Frozen River
Howard A. Rodman – Savage Grace, Joe Gould's Secret