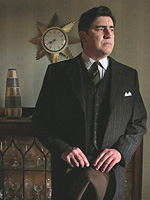 I'm late to the table in some sense given that Lone Sherfig's "An Education" dazzled audiences five months ago at the Sundance Film Festival.  But after catching the film last night, I was left with one mission: spread the word on Alfred Molina.
Most of the end-of-year awards talk will surely surround Carey Mulligan's absolutely peerless and incredibly refined leading performance, as well it should.  She won't need much of a boost into the Oscar race when people get a load of what she has to offer here.  But I'm circling the wagons for Molina, whose portrayal of a concerned father of the era is, not to put too fine a point on it, the work of a master.
Molina has no showy moment.  He has nothing you would say represents a classic "Oscar clip."  But truly, when has he?  This is an actor, still without proper recognition from the Academy, who has delivered time after time, from "Boogie Nights" to "Frida" (his one brush with the derby) to "The Hoax" and even blockbuster fare such as "Spider-Man 2."  And in "An Education," he's at the top of his game.  I was more affected by his subtle additions to the film than I expected and that, I'd say, is the hallmark of an accomplished supporting performance.
As for the film itself, it's something close to a miracle.  "Near-perfect" is how I keep describing it, that rare occasion when a filmmaker taps into profound truths with the help of a cast that gets it, the themes surging through every vein, a driven vehicle of purpose.  The ensemble could well get its props from the Screen Actors Guild come year's end, but they also deserve individual commendation: Mulligan, Molina, Peter Sarsgaard, Cara Seymour, Rosamund Pike, across the board.
A knock-out of a film.  I look forward to discussing it more throughout the year.