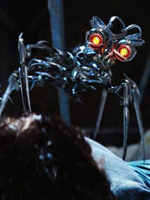 While "Transformers: Revenge of the Fallen" tears up the box office while simultaneously rubbing the critical fraternity wrong, some of us can't help but wonder how the money will effect its performance in the technical categories (a concentrated focus of In Contention in Gerard Kennedy's seasonal Tech Support columns) come year's end.
Tom O'Neil is pondering the film's potential for winning kudos both at the Oscars and the Razzies, which could be an ironic twist for the film.  But no matter how you feel about the film from a critical view, there is no denying the craft on display below the line.
Most especially, the sound editing and mix is absolutely state of the art.  Nothing compares.  The intricacies of the soundtrack, the balance of heavy metal and tinny particulars, all of it is absolutely award-worthy.  That it is such a dense mix without overwhelming the senses is, I think, a real testament to the work of mixers Gary Summers and Greg P. Russell.
Russell, you may recall from our talks with him in this space, recently broke off a lengthy partnership with fellow mixer Kevin O'Connell that led to a combined 31 Oscar nominations.  He has worked with Bay for the past 13 years, going all the way back to "The Rock" in 1996 and with "Transformers: Revenge of the Fallen," I think he's done his best work yet.  And just look at his 180-title resume to see what level of accomplishment that truly is.
Russell and his partner on the new film, Gary Summers (a legend in his own right) recently sat down with the editors guild to discuss what it took to bring robots to life.  A lot of it is inside talk, but it's a must-read for those of you interested in these fields and eager to have a well-rounded understanding of what it really takes to put a film together.
Here are some of Russell's thoughts on the new mix:
Michael Bay is not one to rest on his laurels. Every movie I've ever been on with him –– from The Rock to Armageddon to Pearl Harbor –– has been more ambitious than the one before. Even if you removed the robot effects in Transformers 2, this would still be an incredibly busy movie –– every aircraft in the US armed forces except one is in this movie, plus there are cars, guns, submarines, aircraft carriers and explosions galore. The fire charges in the explosions are, to my knowledge, the largest ever done on film. And then you have the robots!

Also, there is more motion in this soundtrack than anything I've ever done before, in terms of panning. Separating sounds with placement and frequency selection is key for greater definition. The transformations and visual effects in TF2 are much more sophisticated, smoother, cooler and more detailed than in the first movie, so we had to up our game to match that detail sonically. Our main job was to sonically deliver Michael's vision of the story and provide a soundtrack that would be believable and real –– not just within the scope of such an epic film, but also to enhance the emotional bond of our cast and robots.
And when asked about his overall philosophy of mixing, he had this to say:
Simple; it's to utilize all the sound elements in the most effective way to best tell the story and support the context of each and every scene. I believe it's an absolute art form and a craft as well. We are painting on a huge canvas with hundreds of colors and textures of sound to create a film's soundtrack. Creatively, the choices made within that process directly affect the entire experience for the filmgoing audience. Michael Bay considers sound to be 50 percent of the experience of his films. Bringing these epic action films to life has been the most rewarding and challenging experience of my career.
After 12 nominations, Russell still doesn't have an Oscar to show for his work.  Ditto former partner O'Connell, who could also find himself competing in the derby this year with Michael Mann's "Public Enemies."  (Speaking of Mann, here's a fun fact: Russell got his start in the wold of TV, including the mann-created series "Vega$.")  Most would chalk that unfortunate statistic up to the nature of the films Russell works on.  They tend to be high gloss actioners that, regardless of quality, happen to feature some of the most groundbreaking work in the business today.  Meanwhile, easy mixes for musicals seem to be a thorn in his side.  Last year, when everyone thought "Transformers" would finally be the one, "The Bournce Ultimatum" slipped up and stole his and O'Connell's thunder.
We'll certainly be banging the gong around these parts for Russell and Summers.  This is a living, breathing piece of sound design that deserves its proper recognition.  Another pesky musical is on the horizon in Rob Marshall's "Nine," but heres hoping "Transformers" can turn enough heads (or ears) at the end of the day.
Speaking of all this, now is as good a time as any to give you the heads up on this year's Tech Support series.  We're getting started early so that the categories get more thorough coverage than they used to.  So beginning next weekend, Gerard will begin analyzing the contenders in each field on a weekly basis as we march toward the season.  Once we're in the thick of it, I'll be joining him in covering the beat with interviews and other commentary.  It should be, as always, another exciting year for the techs.