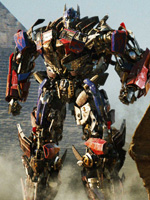 The day will come when "Transformers: Revenge of the Fallen" will be studied in film classes and shown at cult film festivals. It will be seen, in retrospect, as marking the end of an era. Of course there will be many more CGI-based action epics, but never again one this bloated, excessive, incomprehensible, long (149 minutes) or expensive (more than $200 million). Like the dinosaurs, the species has grown too big to survive, and will be wiped out in a cataclysmic event, replaced by more compact, durable forms.
From Roger Ebert's recent write-up on "Transformers: Revenge of the Fallen." Even though he mentions an expectation for boffo business in the next graph, I have to ask: Do you really think a $203 million opening isn't going to yield more and more unrelenting, big budget, massive event films developed from successful franchises with built-in fanbases? It's only a matter of time before "Voltron" makes it to the screen. And if they had figured out a live action "Thundercats" by now, I'm it would have hit the multiplexes already, too.
And the bit about "many of those who do see it will find they simply cannot endure it."  I wonder when was the last time Mr. Ebert saw a film with an audience.  Against all odds, the public is head-over-heels for this thing.
Anyway, extinction is wishful thinking, my friend.