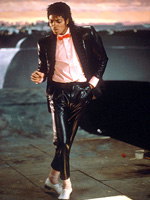 Tomorrow's installment of The Lists is going to be Michael Mann-centric, but I was all set to write up something brief in the way of qualifying Michael Jackson's contributions to the movie world until I came across this Christopher Campbell posting at Spout Blog.  It'd be pretty difficult to go much deeper than he has.
Campbell ranks Jackson's "filmmaker collaborations," including music videos directed by the likes of John Singleton, David Fincher, Bob Giraldi and, of course, John Landis and Martin Scorsese.  As expected, the Francis Ford Coppola-directed, George Lucas-produced "Captain EO" is in the mix, as well as Sidney Lumet's "The Wiz."  I had totally forgotten about the Spike Lee production "They Don't Really Care About Us" until I caught it on MTV or the like yesterday.  Campbell places that at #1.
It's a shame room couldn't be made for the "Billie Jean" production, from visionary music video (and eventual so-so film) director Steve Barron (A-Ha's "Take On Me").  Promo News recently caught up with Barron for a brief remembrance of the shoot.
"I'm on camera tracking back as he came forward… and it was astounding. At no time before did you have any idea… nobody did, until that moment. And then when he came forward through that chorus, literally my eyepiece steamed up, and I'm thinking: 'fucking hell, this is amazing, he is incredible.' Dancing on his toes, the whole thing.

"We shot that first take, got to the end, and everyone – up in the gantries, eating their sandwiches, reading the paper, painters working on another set – just burst into applause.

"We all just knew we'd seen another era of superstar that the world was about to see. It was a major moment."
Another video that would make my personal list is the Herb Ritts-directed "In the Closet," a sultry production for an amazing track off the "Dangerous" album that starred an unbelievably smokin' Naomi Watts.  But lists are personal and I have to commend Campbell on his.
Also, someone needs to pitch a piece that would include comments from Scorsese, Coppola, Lucas, Mark Romanek, Singleton and Lee.  There's a great story about Jackson's innovative approach to the medium floating in the air, waiting to be snatched up.
What are your favorite Jackson filmmaker collaborations?  Have your say in the comments section below!