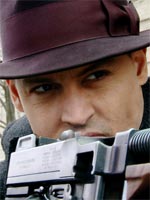 Joe Queenan is one of my least favorite Guardian film contributors — too often perversely hard to please — but I did appreciate the boyish honesty of this piece, in which he sheds his usual cineaste grousing to indiscriminately geek out over guns and fedoras. With "Public Enemies" only a few days away, he extols the simple joys of the gangster genre:
For those of us who secretly believe that gangster movies are the only ones worth making – despite our obsequious lip service to Truffaut and Antonioni – the timing could not be better. Aficionados of gangster movies view reality as a daisy chain connecting one gangland saga to the next, with ordinary life – family, children, career, lunch – occurring in between. We do not need an uninterrupted stream of gangster movies to survive, and we certainly do not need half-hearted twaddle like Knockaround Guys to function properly – but we cannot tolerate long gaps between high-quality releases.
Queenan doesn't appear to have actually seen "Public Enemies" yet, so there's no word on whether or not Mann's film rewards his faith. That said, I wouldn't even try and determine how his gangster-film hierarchy works: this is a man who deems "Once Upon a Time in America" "laughably awful," while simultaneously singing the praises of the comparatively workmanlike "American Gangster."
More importantly, he draws attention to a fantastic restrospective of gangster cinema at London's peerless BFI Southbank, one that features many of the usual suspects — the aforementioned Sergio Leone classic, "Little Caesar," both go-rounds of "Scarface" — as well as a couple more catholic selections. (Richard Linklater's "The Newton Boys," anyone?) Anyway, I'll be in line for my first big-screen encounter with one of my three favorite films of all time. (That'd be "Bonnie and Clyde.") Don't miss out, fellow Londoners.