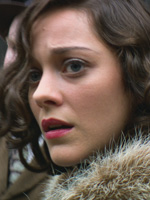 F.X. Feeney, whose Taschen study on the films of Michael Mann is must reading for fans of the director, has gone on the record with Jeffrey Wells as believing the female characters from Mann's films to be "deeply observed, self-reliant and fully dimensional."
The comment follows an earlier Wells posting concerning Marion Cotillard's strong performance in "Public Enemies," opening Wednesday.  And while I have all the respect in the world for Feeney and his opinions, I have to respectfully disagree with his take here.
In writing about Cotillard's performance in my review of the film, I praised the actress for finding "the right combination of frailty and strength that has defined the few well-developed female characters from Mann's films," and I stand by the passing commentary at the end there.  Most of the females in Mann's work, to my eye, serve as transitional devices more often than not.  Cora Munroe in "The Last of the Mohicans," Charlene Shiherlis in "Heat" and now, Cotillard in "Enemies," represent the few examples of the director tapping into women with a compelling trajectory.
Feeney takes exception with film writer and professor Mark Harris's recent New York Times piece, which claims "prominent roles for women are not among [Mann's] trademarks," though I think Harris was speaking more to presence than complexity.
Mann was on to something in "Miami Vice" and especially Diane Venora's role in "Heat," but where Feeney sees self-reliance and dimensionality, I see missed opportunity through underscored nuance with actresses that didn't seem comfortable with their roles.   Regardless, I appreciate the opportunity to read his thoughts on "Enemies" and have to thank Wells for putting them forth.
"I love, too, that Public Enemies dramatizes the great line from Miami Vice — 'time is luck' — without having to state it aloud," Feeney tells Wells.  "Mann is contemplating mortality in this movie, more directly and philosophically than ever before — and doing so in the Ernest Hemingway sense of action as a philosophy.  This is a soulful film that calls no attention to its soulfulness, trusting us to tune in."
On that, sir, we're 100% in agreement.
Related Posts