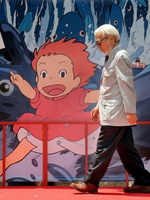 I've come to the awkward, "I'm the only one" conclusion that, despite my best efforts, the cinema of Hayao Miyazaki just doesn't paddle my boat.
Looking back over the animator's past works again throughout the week in preparation for this write-up, and having taken in his latest, "Ponyo," just a few weeks back, I still find myself struggling to maintain an interest in these films.  "Ponyo" is probably more in line with "My Neighbor Totoro" or "Kiki's Delivery Service" than the director's more ambitious fare, but it nevertheless represents an imagination that, despite my aversion to the work, is a welcome dose of creativity in a business sorely lacking it year after year.
"Ponyo" is a loose adaptation of Disney's "The Little Mermaid," though Ariel's mermaid has been swapped for Ponyo's gold fish and there isn't a villain within earshot.  But a narrative lacking an antagonist is par for the course for Miyazaki, perhaps one of the reasons I never warmed to his work but still a brazen way to go about visual storytelling business.
The film will open in the U.S. on August 14 on more screens than any Miyazaki film to date.  Disney (along with producers John Lasseter, Frank Marshall and Kathleen Kennedy) is aiming to move the domestic box office needle for the first time on one of the filmmaker's endeavors.  Typically a hit throughout the rest of the word, and certainly in Asia, Miyazaki has continuously struggled to find an audience here in the States.  His first brush with any sort of awareness was the 1999 Miramax release of "Princess Mononoke."
Miyazaki is also making his first trip to San Diego's Comic-Con International next month, where he certainly has a number of fans remaining from his manga days.  But frankly, I don't know that his trend of fiscal failure here in the States will be bucked come August.
"Ponyo," though full of motion and life, isn't the event film it needs to be to register for new audiences.  It will surely make more money for the sheer amount of screens, but I don't know if it'll be a "hit" per se.  Perhaps a bigger release platform for "Spirited Away" could have made more than a scant $10 million in 2002 if it ever reached more than 700 theaters.  That film probably remains the most imaginative Miyazaki effort to date (though, still, not for me).
I have the most respect for those examples from Miyazaki's portfolio that stretch the limits of expectation and imagination but also seek out intriguing truths.  "Nausicaä of the Valley of the Wind," "Castle in the Sky" and "Spirited Away," for instance.  But I still remain on the outside looking in when it comes to this filmmaker, a fact I accept with a heavy heart.  In simpler terms, I wish I could be there with you.
But I'm not, so…onward.
"Ponyo" will close the Los Angeles Film Festival tonight at 6:30pm at the Wadsworth Theatre in West Los Angeles.