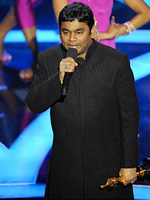 The headline is slightly misleading, but not entirely untrue.  Following Wednesday's big shake-up regarding the addition of five more slots in the Best Picture category (which has spurred considerable debate in John's column today), the Academy has issued this press release indicating that, if no song receives the agreed-upon score minimum, then the category will be nixed for that year and an Oscar for Best Original Song will not be presented.
The release, in part:
The governors approved the Music Branch Executive Committee recommendation that if no song achieves a minimum average score of 8.25 in the nominations voting, there be no original song nominees and thus no Oscar presented for the category. If only one song achieves the required minimum, it and the song with the next highest score will be deemed the nominees. If two or more songs achieve the minimum score, they will be the nominees though no more than five nominees can be selected. Previously, the rules dictated that there be no more than five but no fewer than three nominees in the category.
So, in a nutshell, there could be two, three, four, five or zero nominees for Best Original Song this year.  It all depends on how the increasingly troubled music branch decides various songs impact the films in play.  This still wouldn't have saved Bruce Springsteen's "The Wrestler," which unfortunately played on black for the first minute or so pre-credits in the film and, therefore, wasn't deemed a proper marriage of music and imagery.  Bollocks.
Other modifications of the rules include normal date changes and minor "housekeeping" changes, according to the press release.