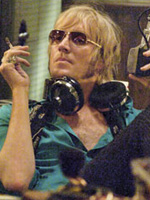 Variety's Pamela McClintock and Ali Jafaar are reporting tonight that Focus Features will distribute Richard Curtis's "The Boat That Rocked," rather than parent Universal, and instead of the originally planned August 28 release date, the studio has pushed it to November, right in the middle of the Oscar season.
The article notes the fact that Focus is "more adept at marketing less commercial fare" as reason behind the move, but it also notes "Focus prexy James Schamus said his team is working with Curtis to trim about 20 minutes from the film, which originally ran 129 minutes. A chief complaint from critics was the film's length."
You'll recall, the film took a pretty big critical shellacking upon release in the UK in the spring.  It also failed to light up the international box office, pulling in, as McClintock and Jafaar note, a mere $25.1 million against a $50 million budget.  But while everything is certainly a business maneuver in this industry, one can't help but wonder whether Focus is thinking, with a thin Oscar slate going into the fall (though animated feature "Coraline" is sure to pop up in the animated field), "Boat" could be whipped into an awards contender.
Of course, any studio that may have seen itself on the bubble from far away has a fighting chance with the Academy's decision to open up the Best Picture category to 10 nominees.  Going into the season, Focus has the Coens' "A Serious Man" and Ang Lee's "Taking Woodstock," but the latter isn't aimed at awards while the former takes the 2006 Oscar champs back to contemporary black comedy territory — not exactly Oscar bait.
Knocking 20 minutes off a film is significant.  That kind of thing could change both the structure and the impact of a film.  It's a bigger cosmetic shift that the post-festival cut some features undergo before theatrical release, that's for sure.  Perhaps now there's another contender to add to the pile.