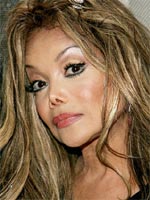 Well, that was quick. The Guardian reports that, following the coinciding events of last night's "Bruno" premiere and Michael Jackson's tragic passing, a hasty — and possibly permanent — cut has been to the film. The scene in question pits Sacha Baron Cohen against Jackson's sister LaToya:
The offending scene features Cohen, in the guise of Brüno, attempting to find Michael Jackson's phone number on LaToya's BlackBerry. After Brüno reads aloud what he claims to be the singer's number, an apparently enraged LaToya terminates the interview and storms off the set. Reports suggest that the scene will not be restored for its official release on 10 July.
It would appear that the scene isn't particularly derogatory about the late superstar, but the powers that be at Universal decided to remove it "out of respect to Jackson's family." Fair enough.
However, Jeffrey Wells, who has seen the film with the scene intact, thinks it's an overreaction:
I've seen the scene and it's very mild. It doesn't slag Michael Jackson — it merely pokes at the notion of his worldwide fame. LaToya is made fun of but who cares about that? I wouldn't cut it if I were Universal. Stick to your satirical guns, guys! Stand with Sacha and let the Jacksons eat cake.
Wells states that Universal publicity won't offer comment just yet on whether the scene will eventually be reinstated — burying it altogether sounds a bit drastic to me, but then I have no idea how comically invaluable the scene actually is. If it's one of the film's throwaways, that's kind of what DVD extras were made for.