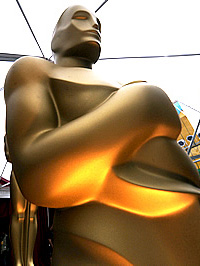 So the Academy, in one of the dumbest moves since awarding Roberto Begnini an Oscar for his incessant mugging in "Life is Beautiful," is reaching back into its history to allow for 10 films in the Best Picture category.  I just cannot understand why they would make such a blatantly stupid decision after so many years of five nominees!  My God, if they wanted to shake things up, divide the nominees into drama and comedy/musical like the Globes, which is equally stupid, but makes more sense (somehow). Are they concerned they are that out of touch and need more nominees to cover their ass?
Would it not make sense to bring in a new group of Academy members, perhaps the critics (some of them) or directors and producers? Maybe the active artists, actors, directors, writers, and on and on should vote. In much the same way they nominate, directors for directors, editors for editors, maybe that is also the way they should vote for the winner?  Anything but this.
So the Best Picture race becomes moot.  All eyes on Best Director now.  That category will become the indicator of the "real" five nominees for Best Pic.  But do they actually think this will open things up for brilliant work like "Into the Wild" and "The Dark Knight" when the sensible thing to do is get rid of the "old" way of thinking and allow for new blood in the Academy itself?
Ten?  They can't even get five right!
Over the last 20 years, here are films that had no business among the five nominees for Best Picture. Films like this will have a much easier road to "Best Picture nominee" with an expanded category, however.
"The Reader" in 2008 was weak, empty of emotion and just not a very good film. How did it get nominated? Mr. Weinstein really is a miracle worker. How does Christopher Nolan get a DGA nod for "The Dark Knight" only to be snubbed by the Academy so this one gets in? Other worthy nominees might have been "Revolutionary Road" or "Che" (which never had a chance, I know).
"Atonement" was a beautiful film to look at but was it really a stronger film than "Into the Wild" or "The Assassination of Jesse James by the Coward Robert Ford?" And Mr. Penn's DGA nomination speaks volumes.
"Crash" shouldn't have been in the 2005 mix.  It was really just some wonderful scenes stitched together and called a film. Some of the stories interconnect, some do not and some are left without a resolution. Remember the look of shock on Jack Nicholson's face when he opened the envelope?  A better, more exciting nominee might have been "King Kong."
"Finding Neverland" was a well made, nicely acted film but not superior to either "Kinsey," "The Incredibles," "A Very Long Engagement," or "The Passion of the Christ."  The Academy would have scored points for sheer guts if they had nominated the latter for Best Pic or Best Director.
"Seabiscuit" was an uplifting historical film based on a great book, which the Academy has shown a deep love for over the years. But best film?  Over "City of God," "Finding Nemo" or "Cold Mountain?"  Sorry. With 10 nominees, maybe Ron Howard's criminally under-appreciated "The Missing" might have gotten nominated.
"Chicago" won the Academy Award for Best Picture but had no business among the nominees. Left out were "Far from Heaven" (perhaps the movie of the year) and "Road to Perdition," which I think is the best film of Sam Mendes's career.
"A Beautiful Mind" won the Oscar. Hmmmm. How? As payback to Ron Howard for shafting "Apollo 13?"  Someone tell me how "A Beautiful Mind" was judged best film of the year when it should not have even been nominated. Left out? "The Royal Tenenbaums," "Amelie," "Shrek" and "Monsters, Inc."
"Gladiator" best of the year? Nope, and again a film that might not have deserved to be among the top five. At least it was not alone. "Chocolat?" Jeez Louise! How does "Almost Famous," "O Brother, Where Art Thou?," "Requiem for a Dream" and "Cast Away" get passed over for those films?
"The Green Mile" did not belong in the 199 race. In its place should have been "Magnolia" or "Fight Club," seminal works of cinematic art.
"Life is Beautiful" is nominated over "The Truman Show?"  The world had gone crazy, crazier when the lead actor award was handed out.
"The Full Monty" was a delightful film but stronger than "Boogie Nights" or "The Sweet Hereafter?" I think not. My God, "The Sweet Hereafter" finished second in voting for both film and director with the New York Film Critics Circle and was Kenneth Turan's best film of the year.
"The English Patient" is one of those films I hate…just hate…therefore I do not understand why it was nominated. Where was "Trainspotting?" "The Crucible?" "The People vs. Larry Flynt?"
"Braveheart" was a good movie, not a great movie and certainly not an Oscar caliber film, though it won. I remain stunned "The Bridges of Madison County," "Nixon," "Dead Man Walking," "Leaving Las Vegas," and "Seven" were ignored.
"The Fugitive" was a high octane thriller, well crafted and well acted, but certainly not Best Picture-worthy.  Over Robert Altman's Short Cuts," Martin Scorsese's exquisite "The Age of Innocence" or Jonathan Demme's "Philadelphia?" Come on, get serious.  It might have been nice to see "Fearless" nominated as well.
"Scent of a Woman?"  A best picture nominee?  Who-ahh voted for this?  While Spike Lee's masterpiece "Malcolm X" is denied a nomination, this crappy piece of overblown claptrap is up for Best Picture, Best Director and wins Best Actor. There is no God.
"Ghost" and "The Godfather Part III" somehow got nominated in 1990 over such excellent works as "Postcards from the Edge," "Dick Tracy," "The Sheltering Sky," "The Grifters," or "Avalon."  Was there an obligation towards the legacy of "The Godfather" films to see the third nominated? Maybe, but "Ghost" I have never understood.
And that takes us back to 1990. To go back further would include wrongly nominated films such as "The Greatest Show on Earth," "Around the World in 80 Days," "Guess Who's Coming to Dinner?," "Dr. Doolittle," "The Alamo," "The Towering Inferno," "Cleopatra" and so many others. These films were nominated when the Academy had just five choices.  Now they have 10, and while some might stay positive thinking the group will now allow more room for these looked-over examples, I do not. How long before a film like "Jackass" makes the cut? Man, jump off this boat 'cause it is sinking fast.
What have they done? Do they even know?
"The horror.  The horror."