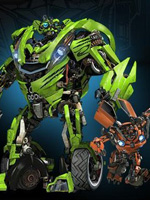 This AP story has been popping up at various aggregators for the past two days, though its particulars have been a focus of debate for many who saw the film over the last week: are the twin robots in Paramount's "Transformers: Revenge of the Fallen" elements of racism, insensitive stereotypes, an evil combination of both or — here's a radical thought — merely of a piece with the built-in lore of the franchise?
The grievance:
Skids and Mudflap, twin robots disguised as compact hatchbacks, constantly brawl and bicker in rap-inspired street slang. They're forced to acknowledge that they can't read. One has a gold tooth…

Todd Herrold, who watched the movie in New York City, called the characters "outrageous."

"It's one thing when robot cars are racial stereotypes," he said, "but the movie also had a bucktoothed black guy who is briefly in one scene who's also a stereotype."

"They're like the fools," said 18-year-old Nicholas Govede, also of New York City. "The comic relief in a degrading way."
I'm of the mind that these characters, though certainly not the most classy depictions, could be read as commentary on the state of pop culture in today's society.  After all (and as African-American actor Reno Wilson, who voices Mudflap, cool-headedly notes in the piece), the Autobots learned about human communication, and likely fashion sense, through the internet, a veritable treasure trove of information indisputably indicative of  "us."  Maybe, then, the heat lies on our shoulders, not Bay and company's.
Now screenwriters Alex Kurtzman and Roberto Orci have chimed in on the debate.  And in a rather intriguingly spineless twist of fate, they've offered the "we didn't know" defense and placed the blame squarely at Bay's feet.
Film School Rejects contributor Cole Abaius recently sat down with the duo and discussed the particulars of the controversy.
Here is the bulk of that exchange:
Cole: I heard that the gold tooth was Michael Bay's idea, but do you have any response to those who found The Twins offensive?

Orci: Number one, we sympathize. Yes, the gold tooth was not in the script, that's true.

Kurtzman: It's really hard for us to sit here and try to justify it.I think that would be very foolish, and if someone wants to be offended by it, it's their right. We were very surprised when we saw it, too, and it's a choice that was made. If anything, it just shows you that we don't control every aspect of the movie.

Cole: Were you offended by them?

Kurtzman: I wasn't thrilled. I certainly wasn't thrilled.

Orci: Yeah, same reaction. I'm not easily offended, but when I saw it, I thought, 'Someone's gonna write about that.'"
Honorable.  But regardless, I personally think the entire situation has been blown out of proportion.  And for a film with precious few fans, it's going to be a difficult ride overcoming something like this that can turn into a rather unthoughtful dog-pile very quickly.  But that's my opinion.
What do you guys think?  Are Skids and Mudflap racist depictions?  Are they just part and parcel of the narrative's expositional particulars?  Is this whole thing blown out of proportion?  Have your say in the comments below.
(By the way, the film cleaned up with a record-breaking $60.6 million at the box office Wednesday.  More on that in Chad's Sunday Cents column, I'm sure.)