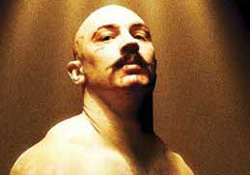 Los Angeles Film Festival
It took me a few minutes to really grasp that watching Nicolas Winding Refn's "Bronson" was likely the most rewarding cinematic experience of the year to date, but when it clicked, it became obvious I was in the hands of an unrelenting artist.  Refn's canvas is bone-crushingly overt.  The telling of the story is at once abstract and refined, quite expressionistic and an oddly refreshing assault on senses.
The film concerns itself with the bizarrely true tale of Britain's "most violent prisoner," Michael Peterson, who after being taken into custody for attempted armed robbery at 19-years-old managed to turn a 7-year sentence into 34, 30 of them spent in solitary confinement.  The madness making itself at home, Peterson developed a superstar alter ego, "Charles Bronson," proceeding, throughout his decorated tenure of incarceration, to maim, batter, bruise, take hostages and pretty much guarantee an inevitable discretionary life sentence for the crimes he's committed behind bars.
For all of this seemingly aimless madness, Refn is unexpectedly reserved when it comes to building a traditional motive into his vision of Bronson, still alive and surely raising hell to this day across the pond.  Beyond an intriguing theatrical structure motif, which stages actor Tom Hardy in spotlight as a one-man show (revealing Bronson, perhaps, as something of an exhibitionist), there is no pat reasoning for the criminal.  The film is a tapestry of implication, not indication.  And it is a fierce staple of the year's festival circuit so far.
Hardy is miraculous in a role that perhaps owes some of its on-screen realization to Eric Bana's work in Andrew Dominik's "Chopper," though not much.  He commands the screen in any number of Refn's preferred stylistic devices, snarling and grinning with equal antagonistic ecstasy.  It is the kind of star-making turn that sets an actor up for life, and thankfully, with Hardy's attachment to Christopher Nolan's upcoming "Inception," it seems U.S. audiences that might miss "Bronson" will be exposed to his talents after all.
The film itself owes a bit to Stanley Kubrick's "A Clockwork Orange," but the difference is critical.  Refn goes to considerable third-act lengths to establish the folly of its subject's chosen lifestyle.  And for all its stylization, "Bronson" is not a glorification of violence (not that "Clockwork" is).  Indeed, the violence on display isn't even beautiful, even if it is magnetic.  Bronson isn't held on high as a hero of anarchy.  Instead, the audience is left observing a withered, lost mind.  The ultimate indication is a wasted life, not a brazenly realized one.  For that, "Bronson" captures unexpected truth amid unbridled chaos.