It's been a while since we offered up a contest here at In Contention, so in honor of the forthcoming release of Michael Mann's "Public Enemies," I thought we'd remedy that.  We've got two posters from the film to give away, so two separate competitions.
First, I figure a caption contest is the quickest, easiest way to go about things to start, so in the wake of recent classy drooling on my part over actress Marion Cotillard, give us your best caption for the image below and you could nab this character poster from the film.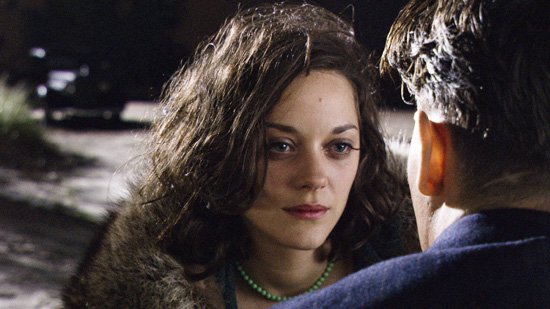 Now let's get a little trickier. The official domestic one-sheet is up for grabs to the first person who answers the following Mann-centric trivia question. (UPDATE: Strike the trivia question, as Mr. Gittes was way too quick to the punch on a query I actually thought would stump some folks.  Oh well, here's the question, in any case):
When Michael Mann first heard about the ongoing struggle between journalist Lowell Bergman and CBS regarding a whistle-blowing former tobacco scientist — which would become fodder for his 1999 film "The Insider" — the director was busy building projects around a number of the other stories Bergman was covering at the time.  One of these came close to development and even had a title for a while.  What was the title and what was the prospective project about?
Have at it in the comments section below!  And yes, you can take a stab at both if you think you've got the chops.