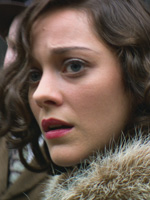 What is beautiful/sexy anyway these days?  Is classic back in?  Does bombshell still register?  Who knows, but for me, very much so lately, actress Marion Cotillard seems to be a certain embodiment.
A taste thing, obviously.  Subjective.  But I put her near the head of the pack in a business so hung up on boiler-plate image that it tends to miss gems like Cotillard.  Fortunately, thanks to an Oscar and prime film gigs, audiences Stateside are making her introduction.
It is with these, perhaps overly dude-ish thoughts that I read Heather Hudson's unique profile of the actress in London's Daily Telegraph newspaper.  Painting a portrait of depth at the very top of the piece, Hudson begins to capture a quite complicated, attractively thoughtful actress.  The writer details a "propensity for complicated emotion" and conversations concerning "intrinsic worth" that absolutely captivates.  Or maybe it's just another crush.
With featured roles in both Michael Mann's "Public Enemies" and Rob Marshall's "Nine" this year, Cotillard is set to have a stellar year.  Upcoming collaborations with Christopher Nolan and Guillaume Canet are sure to further spread her global appeal.  Both Mann and Marshall are quoted in the piece, singing the actress's praises, of course, but this section detailing Cotillard's work ethic in establishing the proper accent for her character in "Enemies" is indicative of the kind of dedication Mann demands:
In preparation for the role, Cotillard talked to Wilma Mankiller, the Principal Chief of the Cherokee Nation from 1985 to 1995, as well as Michael Chapman, a member of the Menominee Indian Tribe of Wisconsin, and spent time in Las Vegas and Chicago, talking to girls working in nightclubs and bars. Cotillard also trained herself to speak in a French-Canadian-Wisconsin accent without a trace of her native tongue.

'It was the hardest thing, really, I've ever had to do. Even being old and depressed like Edith Piaf was much easier. The hardest thing was that I deeply knew that it wouldn't be perfect and it's – agh! It was something unbearable.' For four months she worked with a dialect coach every day, and during the three-month shoot, in true method style, spoke only in English, even to her family and friends.

'I couldn't speak French. No French. Even my French friends and my family when they called me, we would speak English.'
Indeed, Mann says Cotillard is "a great and real person who doesn't fall into the movie stardom cliché…an artist first and foremost," and he admits that he's "never seen anyone work so hard" in his life.  High praise indeed.