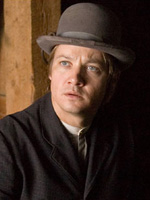 I've been sitting here transcribing an interview with "Hurt Locker" actor Jeremy Renner (watch for that later today or tomorrow) and came across a portion where we discussed 2007's "The Assassination of Jesse James by the Coward Robert Ford," my pick for that year's best film and one of the best of the decade.  I don't imagine finding a place for it in the actual interview piece but I wanted to toss up Renner's thoughts on the making of the film:
Andrew Dominik is great with actors but it was one of the longest jobs I've had.  I feel like I could have shot anything I was in in probably a week and it could have been done but it was just stretched out for so long.  But the cast is phenomenal, riding horses and shooting guns, you get to play cowboys.  That's a little boy's dream come true if you ask me.  There were some moments shooting this thing when I was so bored out of my mind as an artist.  I was so unmotivated.  I'm sitting with Sam Rockwell and Sam Shepard and it's probably three degrees outside and we're shivering, it's four in the morning, we've been out there for six hours, we haven't done anything.  We have potato sacks on our heads.  We could be anybody!  What are we doing!  We were all just very frustrated as actors.  But then I went to the monitor and saw what they were shooting down below, and "Holy moly."  It was just moving art.  Gorgeous.  Then I'm like, "Okay, I understand.  I'm glad to be a part of this process."  Even though it didn't do well in the box office I think that film is going to stand the test of time.  I was so happy to be a part of that.  Very blessed.
By the way, does anyone watch Renner's ABC series "The Unusuals?"  I don't follow TV news too closely so I actually found out about the show's unfortunate cancellation from Renner himself, but I have to say, it's one of my favorites right now.  Too bad it wasn't picked up for another season.