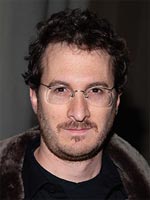 As someone who prefers watching movies to listening to others talk about them, I probably haven't attended as many of the In Person Q&A sessions at this year's Edinburgh festival as I should have. Sam Mendes lost out in my priority scale to "The Red Shoes," while the likes of Bill Forsyth and Brenda Blethyn (whose award-caliber work in "London River" I discussed yesterday) passed me by.
I did, however, catch Darren Aronofsky's career discussion earlier this week, and a most entertaining couple of hours it was. It wasn't quite clear why Aronofsky was at the festival, given that he had nothing new to present – perhaps he also simply fancied a chance to kick back and watch a few movies in a picturesque town. (Earlier in the day, I had found myself seated behind him at the "Antichrist" screening – he didn't look quite as impressed as I was.)
As with the last time I saw Aronofsky speak, when presenting "The Wrestler" in London, the filmmaker's interview style is largely too chatty and anecdotal to relate in writing – for the most part, I simply dropped my notepad and enjoyed the patter. The interviewer (whose name, I'm embarrassed to admit, escapes me at this moment, though I can confirm she was both gracious and very well-versed) reasoned that "The Wrestler" was still fairly fresh in the audience's mind, so the conversation mainly flowed around Aronofsky's first three features.
Extended film clips were peppered throughout the session, to Aronofky's evident discomfort, given that he hadn't seen many of the films since they were released. Following an extract from his debut "Pi," he mumbled, "Well, that was pretty humiliating," before admitting that "all I recognize are the mistakes."
There are clearly things about his freshman feature he would change today, and he seemed reticent in discussing the film itself, though he was more forthcoming with a lively stream of anecdotes on the film's Sundance premiere, including an encounter with David Blaine in which the street magician told Aronofsky in no uncertain terms that he had slept through the film. (Blaine apologized years later, apparently.)
He seemed happier talking about "Requiem for a Dream," obviously still proud of the film and his collaboration with novelist Hubert Selby, Jr. ("Usually my screenplays suck," he admitted), but was simultaneously most passionate and most guarded about "The Fountain"; understandably so, given the film's divisive nature.
Appearing genuinely thrilled when an audience member expressed his own love for the film, he offered this as a response to the film's many detractors: "I get why people hate the film. It's very earnest. In a way, it's a very arrogant thing to write a treatise on life and death, but that just where I was at the time … Why should people want to pay money for 90 minutes about death? Everything in our culture is about denying that."
From there on, the conversation spun out on a range of topics including the "Watchmen" film, which he loves, and 3-D, which … well, not so much. (Apart from his artistic misgivings, he moaned that "wearing glasses on top of glasses sucks." I feel his pain.) Asked how he feels about the present-day cultural ubiquity of Clint Mansell's "Requiem for a Dream" score, he raised the biggest laugh of the night by saying, "It's great that Clint's work has taken off, but it pisses the fuck out of me.") And I enjoyed his reflection on his flirtation with rehabilitating the Batman franchise, pre-Nolan:
I never wanted to make "Batman." It was kind of a bait-and-switch game with Warner Bros. over the funding for "The Fountain" … The studio was against me working with Frank Miller. We had such fun working together, walking around the city, geeking out, generally talking about how to make Batman cool. Our Batman was like the duct-tape version: no superpowers, and the Batmobile was a Lincoln Continental with a bus engine. But the studio was like, "We have to sell toys!"
He also firmly quashed any rumors of him working on a rebooted Robocop franchise, tersely telling the hapless audience member who raised the question, "I have no idea what you're talking about … get off the internet, man!"
He wasn't any more forthcoming on the subject of his next project, coyly admitting that he doesn't like sharing his ideas with anyone before they are set into motion (he sat on the basis for "The Wrestler" for 16 years), but allowing that he's keen to give himself over completely to an outside writer's vision. In perhaps the most surprising line of the night, he closed the discussion with "I actually want to do a Hollywood ending sometime."