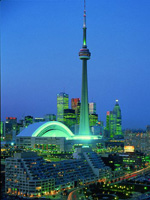 Toronto International Film Festival programmers announced today that they are bringing home the circuit with a group of titles scheduled for the fest that have played previously at other festivals, including Cannes, Berlin and beyond. They will all be North American premieres, spread across several of the festival's programs.
In the Masters Program we will have "The Eccentricities of a Blond Haired Girl" from director Manoel de Oliveira, celebrating his 101st birthday this year, and still at work. From Alain Resnais we have "Les Herbes Folles," a romantic adventure built around the loss of a wallet, and Hirokazu Kore-eda brings us his Japanese film, "Air Doll," in which a blow-up comes to life and tries to find her way in the real world, leaving behind her role as a sex toy.
The Discovery Program will give us "Gigante," a love story from director Adrian Biniez, "The Happiest Girl in the World," a comedy from Radu Jude, and the love story, "Kelin" from Kazakhstan. Australian director Warwick Thomas gives us "Samson and Delilah," the tale of a young couple treated as outsiders as they live in an aboriginal community.
One of my favorite programs, Contemporary World Cinema, brings us films from around the globe, challenging audiences to watch stories from diverse cultures. If you are not a traveler, there is perhaps no greater way to see the world or understand a culture than through its cinema.
From Israel comes "Eyes Wide Open," an interesting story of gay love set in the heart of an ultra-Orthodox Jewish community in Jerusalem, where social pressures and violence threaten all forms of love. "Huacho," a film from Chile, follows 24 hours in the life of a poverty-stricken family, while the Korean film, "Like You Know It All," is a comedy about an art house film director.
"Men on the Bridge" deals with the stories of six men working on a bridge in Istanbul while "My Year Without Sex" is another film from Australia dealing with the aftermath of an emergency surgery on a parent.
Thus begins the countdown to the film festival, the biggest cinematic event of the fall season. Check the TIFF site for the full list of titles added today.  There will be announcements each Tuesday until the fest.  Of course, the biggest revelations are saved for the last, but expect lots of great films at TIFF, as always.