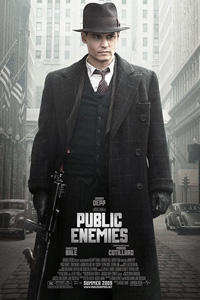 Los Angeles Film Festival
There is a moment very early in Michael Mann's "Public Enemies," featured today as the centerpiece exhibition of the Los Angeles Film Festival, when Depression-era criminal John Dillinger (Johnny Depp) stares into the dying eyes of friend and mentor Walter Dietrich (James Russo) as his band of cohorts flees the scene of a somewhat botched prison escape attempt. The sequence is at once curiously beautiful and unmistakably somber, of a piece with the filmmaker's coldly calculated vision of a man caught up in the freedom of his rebellious lifestyle, yet haunted by the specter of his own obsolescence.
The film marks an exciting return to muscular, patient storytelling form for Mann. After dubious stabs at commercial appeal in "Collateral" and "Miami Vice," films that certainly have followers and admittedly plumb thematic depths no other filmmaker would have reached, the director has painted his most resonant character study since 1995's "Heat."
Headlined by an emotive, at times unsettlingly internalized performance by Depp, the film amplifies Mann's penchant for nuance while marrying it with a well-exercised gift for staging unique if not inimitable action set pieces. But for all the director's classic cinematic accoutrement, the film nevertheless stands apart from Mann's portfolio for its fully realized vision of a doomed romance highlighted by, rather than merely peripheral to, the machismo on display.
Depp is Dillinger, circa 1933. As The Depression holds the nation hostage, he is the best at what he does: robbing banks. He and his crew are "too busy having fun today to think about tomorrow," as he puts it. Dillinger's life is so streamlined that he's whittled the particulars of courtship down to a few direct yet expressive interactions that recall James Caan's modern urban version from 1981's "Thief," who implored of Tuesday Weld's shrinking violet that they "cut with the mini-moves and the bullshit and get on with this big romance."
The object of Dillinger's affection is Evelyn "Billie" Frechette (Marion Cotillard), a half-Native American, half-French coat check girl who stands out to the mobster amid the Chicago nightlife. The temptation to develop an outlaw relationship akin to "Bonnie and Clyde" or "Badlands" is eschewed in favor of presenting Frechette as an anchor of sorts, a reminder of the life Dillinger might have if he wasn't so good at what he does.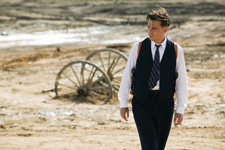 With the rise of organized crime, Dillinger was seen as bad for business.  His interstate exploits led to federal laws that would eventually put the squeeze on Al Capone and Frank Nitti's Chicago empire.  Mann focuses on less than a year of Dillinger's life for the bulk of his narrative, moving from the harrowing Michigan City prison break he helped mastermind from the outside in 1933 through the bank robbing spree that landed him in an "escape-proof" Crown Point, Indiana jail, on to his fateful trip to the movies on July 22, 1934 at Chicago's Biograph Theater.  By that time, with both the government and mafia for enemies, Dillinger was all alone, the last man living for himself in an era more and more defined by what, and who, you owe.
A post-robbery showdown at the Little Bohemia Lodge in Manitowish Waters, Wisconsin serves as the film's most gripping sequence. Dillinger, wounded from a sloppy job in partnership with the radical "Baby Face" Nelson (Stephen Graham), holds off a number of FBI agents as gunfire rips and pops through the film's soundtrack, recalling the gritty realism of "Heat" more so than the stylized examples of "Miami Vice."  The eerie demise of one mobster in this sequence, his tommy gun splattering the earth, fire spitting from its muzzle, illuminating his face in sharp, terrifying bursts, reminds of Mann's artistic attraction to the hyper-real.
Of course, Mann composites a number of elements for dramatic impact along the way, but his narrative is lean and purposeful, a perfectly composed stage for Depp to offer his finest performance to date.
Depp is incredibly restrained here, much like the film itself. He gives very little yet conveys a staggering sense of layering with every nuance; still waters seem to run quite deep with his Dillinger. Cotillard, meanwhile, doesn't offer a stereotypical suffering girlfriend take on Frechette, yet isn't overly creative with her choices, either. She nevertheless finds the right combination of frailty and strength that has defined the few well-developed female characters from Mann's films.
Indeed, "Public Enemies" is perhaps the first Mann effort since "The Last of the Mohicans" to find feminine rhythms that have eluded the director for a great many years.  He has made a career of burrowing into the psyches of men, women typically positioned as transitional figments of the narrative.  But here, Mann paints Frechette with delicate strokes that mix a strong sense of loyalty and subtly justified rebellion with the required amount of delicacy that gives Cotillard an enviable opportunity.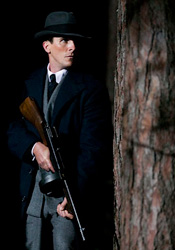 The unexpected dead weight on the proceedings is Christian Bale, who, as FBI agent Melvin Purvis, brings nothing to an already underwritten role. Perhaps Mann was hesitant to cover similar terrain to "Heat" and overcompensated by sapping all of the intrigue out of Dillinger's pursuer, but Bale unfortunately seems to be going through the motions rather than properly capitalizing on the opportunity to work with a master actor's director such as this.
After proving his actorly chops early in his career, then becoming a star in the role of a rather subdued and morose character in Christopher Nolan's Batman franchise, Bale seems to be sliding into an unexpected area of complacency in his work this year. His uninvolved deliveries here follow an equally confused outing in "Terminator Salvation" earlier in the summer.
As expected, all technical elements in the film serve as an extension of Mann's unmistakable auteurism. His first collaboration with lenser Dante Spinotti in 10 years provides for more interesting composition than the increasingly experimental work Mann has sought behind the camera this decade. Design elements from production designer Nathan Crowley and costumer Colleen Atwood are impeccable yet refreshingly muted, while Kevin O'Connell's sound mix puts the viewer right inside the action.
Elliot Goldenthal's score is typically sparse for a Mann collaboration but used effectively. There are moments, however brief, that remind of the soaring elegance Trevor Jones brought to the soundtrack of "Mohicans."
"Public Enemies" fits rather seamlessly into a line of filmmaking Mann has generated to represent, as F.X. Feeney has called it, "a profound, interactive, philosophical history of the United States."  "Collateral" and "Miami Vice" served as stylistic, muscle-flexing diversions, but here the director seems even more thoughtful in his approach to character and structure.  As with "Ali," he doesn't succumb to the lures of the biopic.  He tells a story, directly, and without qualification or ornamentation.  The film is classic Mann.