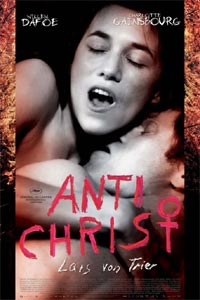 Edinburgh International Film Festival
"I am the greatest director in the world," Lars von Trier declared in an already notorious Cannes press conference following the unveiling of "Antichrist" in May.  Unable to resist such shameless baiting, most critics either responded with affectionate exasperation ("Oh, Lars!") or, as one suspects von Trier preferred, tomato-faced indignation.
What few did, however, was entertain the possibility that he might be telling the truth. It's a conclusion that, even on the imperfect evidence of "Antichrist," this viewer is willing to consider.
Few contemporary filmmakers are as adept at arousing feeling as Lars von Trier – by which I refer not merely to the ingenious media-provocateur act he performs to market his work, but the actual excesses and polarities of emotion he mines within his own cinema.
Von Trier's best films arouse equal measures of devotion and resentment because they engage human empathy with no concessions whatsoever to conventional artistic standards of restraint or good taste; like their psychologically frail heroines – Bess in "Breaking the Waves," Selma in "Dancer in the Dark," Grace in "Dogville" – they teeter on the brink of self-destruction simply because they feel too much.
I must slightly temper that argument upfront by admitting that "Antichrist," as mercurial and bruising as it so often is, is not one of von Trier's very best. Though it by and large meets the criteria described above – and its unnamed anti-heroine is a fascinating, near-parodic amalgamation of physical traits and psychological symptoms from all the director's women – it lacks the emotional breadth of "Breaking the Waves," or the formal and ideological conviction of "Dogville." Unusually for von Trier, for all the film's sledgehammer brutality in its concluding chapters, it's rather coy about what it actually wants to say.
Confrontational title aside, "Antichrist"'s religious undertones never move beyond implication; its sexual politics may be more explicitly referenced (its female protagonist is a women's studies student, after all), but its findings there are no less nebulous, and frequently quotation-mark enclosed. I find it remarkable, in other words, that many at Cannes could take so much offense to a film with such an oblique, imprecise world view.  It suggests that the film's greatest accomplishment – and it's no minor one – may be as a sounding-board for the individual viewer's own insecurities.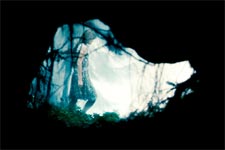 What does lift "Antichrist" into the upper ranks of the director's work is the hitherto unmatched mastery of craft that he wields here.  If von Trier the rhetorician is slightly subdued on this occasion, von Trier the filmmaker has never been more brazenly, exhilaratingly alive.
The film's concluding dedication to Andrei Tarkovsky may have inspired jeers from the Cannes crowd, but the delicacy and occasionally oppressive immaculateness of its imagery sustains the connection; indeed, several sequences, most notably an early, milkily-lit dream-walk through the woods in a character's mind, seem indebted to the Russian filmmaker's balletic visual sensibility.
Elsewhere, von Trier's calculated imbalance between form and function in a scene – as in the perplexing prologue which pairs a young baby's grisly death with his parents' ecstatic coitus, both elements bound, and rendered emotionally inseparable, by a soaring aria on the soundtrack and hyper-stylized, perversely gorgeous monochrome lensing – is a stylistic trick all his own.
Quite to what thematic end this scene, like so many others in the film, achieves its aim is something one may need further viewings to determine.  What's plain on first sight is that von Trier, working with a career-peak Anthony Dod Mantle (here making his lovely, Oscar-winning work on "Slumdog Millionaire" appear positively juvenile by comparison) has constructed the most beautiful, atmospherically textured film of his career.
What is it actually about? This much we know: following the aforementioned death of their infant son, a couple retreat to their remote forest cabin. Rather than nurse their bereavement together, the husband, a psychologist, embarks on a rigorous series of psychological exercises to cure his wife of her "atypical grief pattern," to discover that she is actually crippled by a fear of "nature." (It is initially unclear whether it's landscape or human nature of which they speak; it emerges that the concepts are inextricably linked.) We learn that the woman previously visited this cabin with their son to work on her thesis, a critical study of gynocide – mass murder of women – and an archaic belief that the female sex embodies evil.
However, whether via personal guilt or psychological disorientation brought about by her husband's relentless mind games, she comes to believe the misogynistic theories she previously spent her academic life dissecting. Her new-found conviction of her own innate evil brings about the concluding bloodbath of which everyone now knows the intimate details, if not the emotional context.
Those who have accused the film of being some kind of misogynist tract are hastily assuming that von Trier's and his protagonist's academic rejections mirror each other, and, more crucially, missing the fact that he portrays her husband's passive-aggressive attempts to compartmentalize her emotional patterns as every bit as inhumane as the rather more physical violence with which she responds. It's obvious his sympathies lie with her, though in an interesting development that shows a maturation in female characterization on the director's part, she's not as blamelessly martyred as Bess, Selma or Grace: a flashback late in the film positions the woman as intriguingly complicit in her son's death.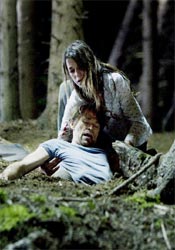 Meanwhile, even the most vociferous doubters of the film's gender alliances would be hard-pressed to deny the physical alertness and emotional acuity of Charlotte Gainsbourg's startling performance, which utilizes her gawky physique and uninflected voice to a rawly sensual effect we haven't previously seen from the actress. Effectively buttressing the more emotionally extravagant turn means Willem Dafoe's work is destined to be undersung, but the film remains resolutely a two-hander, with each star impressively playing off the other's impulses and vulnerabilities.
In fact, for all the Grand Guignol dazzle of the final act, many of the actors' (and the film's) most impressive interludes come from the quasi-Bergmanian chamber drama of the film's first half, where the pair verbally dissect the symptoms that will become manifest later on. Von Trier's tonal discipline here is so unexpectedly tight that when the film turns on its head by launching into wildly playful metaphoric territory (with the arrival of the now infamous talking fox), it doesn't feel like a filmmaker losing control so much as exerting it. Far from the gratuitous torture-porn decried by some, the film's latter half is a surprisingly witty deconstruction of horror-cinema tropes, from the textbook body-horror inner-made-outer motif of Gainsbourg's self-executed clitoridectomy to Willem Dafoe's gender-bent inhabiting of Carol Clover's "final girl" theory.
Abetted by richly evocative sound design and Mantle's consistently jaw-dropping compositions, "Antichrist" therefore registers less as a religious, sexual or social exercise than as a purely cinematic one, a bravura filmmaker at the peak of his formal powers showing them off in a range of genre outfits.
It may not haunt to the degree of his previous masterworks, but for its ideological ambiguities and occasional superficialities, it's by turn affectingly earnest, gleefully silly and – whisper it soft, mind you – rather a lot of fun. Fans and haters alike may be inclined towards a line from many a marital argument less visceral than the one that concludes "Antichrist": It's not what you said, Lars, it's the way that you said it.